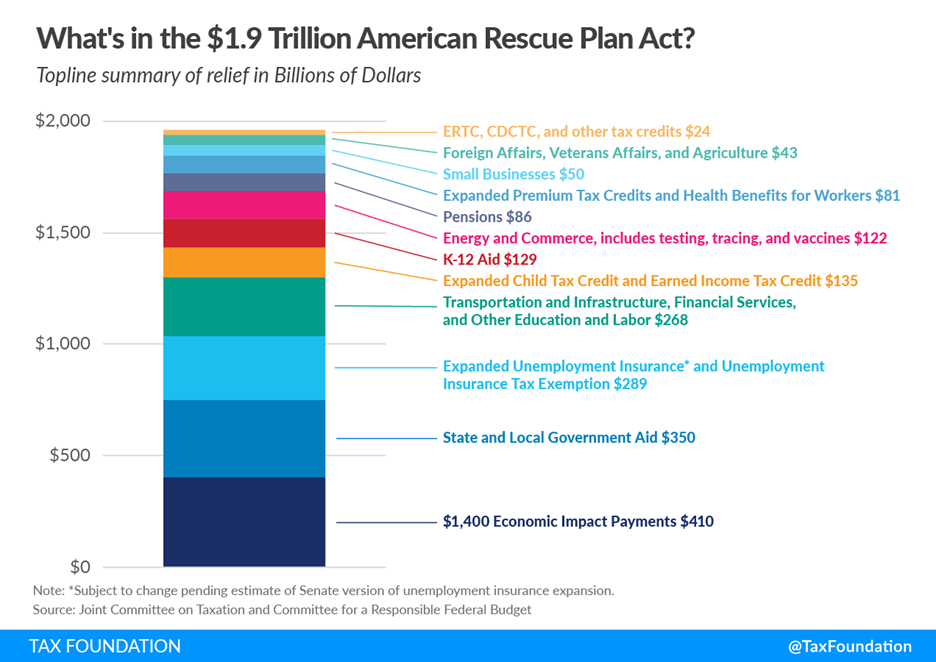 The American Rescue Plan Act of 2021 (ARPA) was signed into law on March 11, 2021. This $1.9 trillion stimulus bill aims to provide additional economic relief to taxpayers, businesses, and other employers through various provisions including a third round of direct payments to eligible individuals, an expansion of the Child Tax Credit, additional funding for the Paycheck Protection Program (PPP), and many more. Approximately, $850 billion is directed towards individuals and $65 billion is directed to businesses. Key provisions we find to be relevant for individuals, businesses, and other employers include $1,400 direct payments.
Direct Payments
ARPA provides a third round of stimulus payments up to $1,400 for individuals ($2,800 for taxpayers filing jointly) and qualifying dependents (as defined in Sec. 152). Eligibility for this recovery rebate credit is based on 2020 or 2019 Adjusted Gross Income and the limits are as follows:
| | | | |
| --- | --- | --- | --- |
| Filing Status | Eligible for Full Payment | Income Phaseout Begins | Not Eligible |
| Single | Less than $75,000 | $75,000 | Greater than $80,000 |
| Married Filing Jointly | Less than $150,000 | $150,000 | Greater than $150,000 |
| Head of Household | Less Than $112,500 | $112,500 | Greater than $112,500 |
Child Tax Credit
For 2021, ARPA expanded the Child Tax Credit amount to $3,600 for children under 6 and $3,000 for children 6 – 17. The standard Child Tax Credit amount and phaseout amounts still apply but this additional tax credit is available to those whose Modified Adjusted Gross Income (MAGI) are as follows:
Standard Child Tax Credit:
Filing Status
MAGI Threshold
Reductions
Single or Head of Household
< $200,000
This credit is reduced by $50 for each $1,000 of income over these limits.
Married Filing Jointly
< $400,000
Additional Child Tax Credit through ARPA:
Filing Status
MAGI Threshold
Reductions
Single
$75,000
This expanded portion of the credit ($1,000/$1,600) is reduced by $50 for every $1,000 of income over these limits.
Married Filing Jointly
$150,000
Head of Household
$112,500
This additional credit is fully refundable meaning, if eligible, no tax liability is necessary for the full refund amount. Advanced payments for this 2021 credit will be distributed from July 2021 through December 2021 and will be based on the most recently filed tax return unless eligible individuals opt-out of advance payments through a soon-to-be established IRS online portal.
Earned Income Tax Credit
For 2021, the applicable minimum age is decreased from 25 to, in most cases, age 19. Special conditions apply to students and other youth. The maximum age a childless taxpayer can qualify is eliminated and the maximum EIC amount for childless households increases from $540 to $1,502.
Child and Dependent Care Tax Credit
ARPA increases and expands the Child and Dependent Care Tax Credit from $3,000 for one qualifying individual or $6,000 for more than one qualifying individual to $8,000 for one qualifying individual and $16,000 for more than one individual child. If AGI is less than $125,000, the credit is 50% of the expense amount; this credit phases out completely for AGI over $440,000. This credit essentially means the maximum credit is $4,000 for one qualifying individual and $8,000 for more than one qualifying individual. This credit is fully refundable.
Unemployment Benefits
ARPA increases the total number of weeks benefits are available to individuals who cannot return to work safely from 50 to 79 weeks. Supplemental unemployment payments will remain at $300 per week after March 15, 2021 until September 6, 2021. For those who claimed unemployment benefits in 2020, up to $10,2000 of unemployment benefits can be excluded from income for those with AGIs less than $150,000. For married couples filing jointly who both received unemployment in 2020, each spouse can exclude up to $10,200.
Student Loan Discharge Taxability
Qualifying student loan debt forgiven between December 31, 2020 and January 1, 2026 will not be taxable as income.
Expanded PPP Eligibility and Funding
ARPA provides additional funding for eligible businesses under the Paycheck Protection Program as well as expands eligibility to additional nonprofits and digital news services. Applications are due by May 31, 2021.
Employee Retention Credit and Paid Leave Credit Programs
The American Rescue Plan extends the availability of the Employee Retention Credit for small businesses through December 2021 and allows businesses to offset their current payroll tax liabilities by up to $7,000 per employee per quarter. This credit of up to $28,000 per employee for 2021 is available to small businesses who have seen their revenues decline, or even been temporarily shuttered, due to COVID.
The American Rescue Plan also extends the availability of Paid Leave Credits through September 2021 for small and midsize businesses offering paid leave to employees who may take leave due to illness, quarantine, or caregiving. Businesses can take dollar-for-dollar tax credits equal to wages of up to $5,000 if they offer paid leave to employees who are sick or quarantining. More details are provided in IRS Notice 2021-20: https://www.irs.gov/pub/irs-drop/n-21-20.pdf
Targeted Grants
Additional funding for targeted Economic Injury Disaster Loan grants is available for small businesses in low-income communities as well as targeted grants for restaurants, bars, lounges, and food trucks.
Excess Business Loss Limitation
ARPA extends the excess business loss rule (Code Section 461(I)) through 2026 which limits the deduction for excess business losses for noncorporate taxpayers. This provision was enacted under the Tax Cuts and Jobs Act of 2017 and originally was set to end at the end of 2025. Section 461(I) limits up to $250,000 for individual filers and $500,000 for joint filers but the CARES Act removed these limitations for the 2018-2020 tax years.
To learn more about how Acumen can help you Invest Intentionally®, please contact us.
Sources:
https://www.congress.gov/bill/117th-congress/house-bill/1319/text#toc-H5A2CF32D1697421DA46ACD1A7E094453
https://home.treasury.gov/news/featured-stories/fact-sheet-the-american-rescue-plan-will-deliver-immediate-economic-relief-to-families
https://www.journalofaccountancy.com/news/2021/mar/tax-components-coronavirus-relief-bill.html
https://www.natlawreview.com/article/american-rescue-plan-act-2021-tax-reports
https://www.jdsupra.com/legalnews/the-most-important-items-in-the-1-9t-4232245/
This report is provided as a courtesy for informational purposes only and nothing herein constitutes investment, legal, accounting, or tax advice. Do not act or rely upon the information and advice given in this publication without seeking the services of competent and professional legal, tax, or accounting counsel. This is for general information only and is not intended to provide specific investment advice or recommendations for any individual. The information has been obtained from sources we believe to be reliable; however no guarantee is made or implied with respect to its accuracy, timeliness, or completeness. It is suggested that you consult your financial professional, attorney, or tax advisor with regard to your individual situation.
Acumen Wealth Advisors, LLC® is a Registered Investment Adviser. Advisory services are only offered to clients or prospective clients where Acumen Wealth Advisors, LLC® and its representatives are properly licensed or exempt from licensure. Past performance is no guarantee of future returns. Investing involves risk and possible loss of principal capital. No advice may be rendered by Acumen Wealth Advisors, LLC® unless a client service agreement is in place.
05/27/20 – With the Federal Reserve and the federal government providing massive stimulus to the economy in the face of the COVID-19 crisis, a persistent worry among investors is whether these policies will lead to inflation down the road. Once the crisis is over, how will all the excess money that is being pumped into the economy be absorbed? There is a concern that inflation will erode the value of bonds.
Our view is that deflation is a threat in the near term, and the risk of inflation in the next few years is limited. While we can't entirely rule out rising inflation down the road, we believe it's not the most likely outcome. A lot will depend on how quickly the economy rebounds from the steep decline caused by stay-at-home orders that have shuttered businesses and resulted in a spike in unemployment. A rapid rebound in the economy could potentially lead to inflation, but we think a slow recovery that keeps inflation moving lower and bond yields low is more likely.
The Federal Reserve's big balance sheet
Many investors remember the 1970s, when inflation rose sharply on the back of expansive fiscal and monetary policies. As inflation and interest rates rose, economist Milton Friedman's thesis that inflation is "always and everywhere a monetary phenomenon" drove the Federal Reserve to target money supply growth in the 1980s, bringing inflation down. Therefore, whenever the money supply rises rapidly it seems reasonable to assume that inflation must be around the corner. However, in order to produce inflation, the money has to be loaned and/or spent, and must drive up the demand relative to supply. If it sits on the balance sheets of banks or is saved by consumers, then it doesn't necessarily drive up prices for goods and services. In the words of another old adage, inflation results from "too much money chasing too few goods."
Currently, quite the opposite is happening, due to the mitigation efforts for the coronavirus. Demand for many goods and services has dropped sharply as consumers remain at home. Business inventories are rising as consumer spending falls amid soaring unemployment. In the first half of the year, it's likely that gross domestic product growth (GDP) will decline at its fastest pace since the Great Depression in the 1930s. Even the most optimistic of forecasters don't expect the economy to fully recover for a few years.
In response, the Fed and Congress are providing relief to build a bridge between the current economic downturn and the potential recovery. The goal is to fill the gap that has been created by the downturn. Referred to as the "output gap," it's the difference between the economy's potential growth rate and its actual growth rate. In order to generate inflation, the gap would need to close and growth would need to exceed its potential for an extended period of time. We see that as unlikely in the near term, and far from certain in the longer term.
Mind the gap: GDP growth is falling far below its potential growth rate
Source: U.S. Bureau of Economic Analysis, Gross Domestic Product (GDP) and U.S. Congressional Budget Office. Nominal Potential Gross Domestic Product (NGDPPOT), Gross Domestic Product, and the Gross Domestic Product Forecast. Quarterly data as of Q1-2020 with forecast through Q4-2020, provided by U.S. Congressional Budget Office.
The longer the current downturn lasts, the more risk there is to the economy's ability to bounce back, because recessions tend to destroy productive capacity. Some businesses will not reopen, some people may not get back into the workforce, and unused resources, such as structures and equipment, as well as skills, become outdated. While a rapid rebound is possible, it seems more likely that it will take time to close the output gap, let alone get far enough beyond it to create a lot of inflation.
Inflation expectations are low
Moreover, it's tough to generate inflation if people don't believe in it. After all, why would anyone "chase" goods if prices stay the same or fall? Delaying consumption could mean getting a discount later. There may be some price increases for certain goods that are in short supply due to supply chain issues, but widespread generalized price increases appear unlikely. Currently, inflation expectations are plumbing the depths of all-time lows. Whether it's survey-based or market-based measures, the signs still point to falling inflation expectations. So self-sustaining demand-driven inflation seems unlikely any time soon.
Consumer inflation expectations have fallen
Source: Bloomberg.  University of Michigan Consumer Expectations Index.  Monthly data as of April 2020.
Market expectations for inflation are also low
Notes: The 5-year 5-year forward rate is a measure of the average expected inflation over the five-year period that begins five years from the date data are reported. The rates are composed of Generic United States Breakeven forward rates: nominal forward 5 years minus US inflation-linked bonds forward 5 years.
Source: Bloomberg 5-year 5-year Forward Inflation Expectation Rate (USGG5Y5Y Index). Daily data as of 5/11/2020.
But what about the long term?
After all, the current wave of inflation worries has been sparked by the unprecedented increase in the Fed's balance sheet, along with the fiscal measures enacted by Congress. Once the economy "re-opens," surely all that money printing will result in inflation down the road, won't it?
It's possible, but recent history doesn't support the idea that it will necessarily happen. There were similar worries during the 2008-2009 financial crisis. However, despite the rapid and huge expansion of the Fed's balance sheet at the time, inflation stayed muted. Asset prices went up, but that was the extent of the inflation.
Nonetheless, a lot of people remember the 1970s, when inflation was high due to a combination of loose fiscal policy and easy monetary policy. While there are some parallels, there were other factors at work back then. The expansive policies came on top of already-strong growth, so there was no output gap to absorb the extra liquidity.
Workers typically had wages indexed to inflation, so demand held up well. Also, the U.S. severed the last remnants of the gold standard in 1971, leading to a steady decline in the dollar. Finally, there were two oil embargoes in the 1970s that lifted the price of oil—a crucial commodity for the economy—resulting in higher prices for both industry and households.
Today, we're looking at a different backdrop. Not only is there a wide output gap, suggesting excess supplies of goods and labor, but wages for many workers haven't kept up with inflation for many years, partly as a result of globalization and outsourcing production to countries with lower wage costs. Perhaps that's why there has been so little "chasing" of goods. On top of that, commodity prices have fallen sharply and the dollar has been strong, holding down prices of imported goods.
Falling oil prices have pulled overall commodity prices lower
Note: Chart shows the Commodity Research Bureau (CRB) Spot Index, which is an index that measures the overall direction of commodity sectors. The CRB was designed to isolate and reveal the directional movement of prices in overall commodity trades. The Spot Market Price Index is a measure of price movements of 22 sensitive basic commodities whose markets are presumed to be among the first to be influenced by changes in economic conditions. As such, it serves as one early indication of impending changes in business activity. The commodities used are in most cases either raw materials or products close to the initial production stage which, as a result of daily trading in fairly large volume of standardization qualities, are particularly sensitive to factors affecting current and future economic forces and conditions. The composition of the groups are as follows:  Metals, Textiles and Fibers, Fats and Oils, Raw Industrials, Foodstuffs.
Source: Bloomberg. Commodity Research Bureau BLS/US Spot All Commodities (CRB CMDT Index). Daily data as of 5/11/2020.
What about the debt?
Another concern is the rise in government debt. Will the burden of debt lead the U.S. to try to cheapen the dollar to repay it? What if foreign investors, who hold nearly half of U.S. debt, demand higher yields in the face of rising budget deficits?
We can look to the WWII era for a parallel—one that is getting a lot of press these days. The U.S. had built up a large war debt. In order to finance the debt, the Fed agreed to cap short-term rates at 0.38% and long-term interest rates at 2.5%. It bought bonds for its balance sheet, amounting to about 25% of GDP, and engaged in a form of yield curve control—targeting interest rates instead of the quantity of bonds it would buy.
In the aftermath of the war, inflation did spike up as price controls were lifted and pent-up demand surged. Also, housing was in short supply and many goods, like coffee and gasoline, had been rationed. Most importantly, unemployment began to fall as returning soldiers found work in factories that were converting back to producing goods for households rather than weapons. Consequently, the burst of inflation in the late 1940s flamed out pretty quickly as supply caught up with demand.
The Fed had been under the thumb of the Treasury for most of the 1940s, holding short-term interest rates near zero and buying bonds for its balance sheet to help finance the war. Its balance sheet expanded to 25% of GDP—near the level it is now. The Fed regained its independence in 1951 and quickly began raising short-term interest rates. What followed was a stretch of solid economic growth, but crucially, bond yields didn't recover to pre-war levels for eight more years. Inflation and interest rates trended higher, but took a long time to reach levels seen before the war despite strong economic growth.
Bond yields were slow to rise after World War II
Source: St. Louis Federal Reserve. Long-Term U.S. Government Securities (DISCONTINUED SERIES) (LTGOVTBD), Percent, Monthly, Not Seasonally Adjusted. Shaded area indicate past recession. Past performance is no guarantee of future results.
Fast forward to 2020 and we also have a buildup of debt and a Fed that is keeping interest rates low and working closely with the Treasury Department to allow its balance sheet to expand rapidly.
The Federal Reserve's balance sheet has risen sharply
Source: All Federal Reserve Banks: Total Assets, Trillions of Dollars, seasonally adjusted.  Weekly data as of 5/6/2020.
However, there are two important differences between today and the post-war period. The U.S. economy has a much slower potential growth rate due to the aging of the population, and there is an overhang of debt at the corporate level. These are factors that will likely mean that the recovery is slow. The unemployment rate has soared to double-digit levels, suggesting that there is likely to be a lot of excess labor supply for quite some time. While many workers will get their jobs back, some will not as temporary layoffs become permanent. That should hold down demand in aggregate. Even workers who return to their jobs may need to recoup some of the money they drew out of savings during the lockdown period.
The civilian employment to population ratio fell to the lowest point since tracking began
Source: Bureau of Labor and Statistics. Civilian Employment-Population Ratio, Percent, Quarterly, Seasonally Adjusted, data as of April 2020.
The overhang of debt means that every additional dollar of debt produces less output. The Fed's relief programs are largely providing corporations with loans. Companies can add debt to their balance sheets with these loans, but when there's too much debt the marginal return on an additional dollar of debt declines. Given the high levels of debt already on corporate and local government balance sheets, it seems unlikely that the added debt will add much to growth. Rather than a burst of inflation when the economy re-opens, we might be looking at another stretch of soggy growth and low inflation.
The role of the dollar
Investor Warren Buffett said summed up the situation very concisely at his annual meeting: "You can finance a deficit as long as your currency holds up." It's about debt sustainability. With 10-year Treasury yields at about 0.68% and 30-year yields at 1.30%, the U.S. can sustain high debt for a long time—unless investors lose confidence in U.S. policy.
That's why we believe a crucial indicator to watch is the dollar. Despite fears of inflation and "money printing," the dollar has remained strong. There are few signs that investors are losing confidence. Because currencies are measured in relative terms, the dollar benefits from a lack of good alternatives. Japan and Europe are in the same boat as the U.S., only with lower yields and older populations. The U.K. is hardly looking very stable these days amid its attempt to separate itself from Europe. China's currency isn't even freely convertible.
More importantly, the world's financial system is more dependent on it than ever. The vast majority of global transactions take place in U.S. dollars. Central banks around the world hold U.S. dollars—and therefore Treasuries—for these transactions. Over time, the debt issued in U.S. dollars has grown sharply—especially debt issued by emerging-market countries and corporations. All of these factors keeps the demand for dollars firm.
At some point, investors could lose confidence in the U.S. and shift out of dollars. The administration has made it clear it wants a weaker dollar for trade purposes. However, in the current environment, it's hard to see what will replace it as a safe haven or a means of transactions any time soon. There is room for it to decline from its recent spike, but a lasting decline would be needed to stoke inflation longer term.
The Fed will also be important to watch. One reason yields have stayed low in the face of expansive monetary policy is the belief that the Fed would react to signs of rising inflation by tightening policy. Confidence in the Fed's inflation-fighting ability is an important factor limiting inflation expectations.
Outlook for interest rates
Over the next one to two years, we believe that deflation is probably more of a risk than inflation. We expect that the recovery from the COVID-19 downturn is likely to be slow, keeping inflation and interest rates low. As the economy mends, the Fed will gradually unwind some of its emergency lending. As loans get repaid, the Fed will let some of its holdings roll off its balance sheet, and start lifting interest rates—perhaps two or three years from now. We expect the Fed to keep the federal funds rate pegged near zero for at least two years, and ten-year Treasury yields to remain under 1% in 2020 and under 2% in 2021.
For those who are still concerned about the risk of inflation and higher interest rates, it would make sense to reduce average fixed income portfolio duration. We favor a lower-than-normal allocation to long-term bonds, because yields are so low anyway. However, the risk is that the downtrend in inflation continues for a few more years and long-term bond yields continue to fall (while prices rise), causing a short-duration portfolio to underperform in relative terms.
Another strategy would be to shift some Treasury holdings to Treasury Inflation Protected Securities (TIPS). TIPS are designed to keep pace with inflation. However, there is a price to be paid for this protection. TIPS yields are negative for most maturities. That means you'll have to pay up now for insurance against inflation down the road.
Overall, a diversified portfolio with the majority of holdings in core bonds—Treasuries, higher-rated investment-grade corporate and municipal bonds—is our favored approach to bond investing in the current environment. For investors willing to take more risk, adding some aggressive income investments such as high-yield bonds and preferred securities can produce more income, but we would limit the allocation to about 10% of an overall portfolio.
By Kathy Jones
Image by Elliot Alderson from Pixabay
Important Disclosures:
The information provided here is for general informational purposes only and should not be considered an individualized recommendation or personalized investment advice. The investment strategies mentioned here may not be suitable for everyone. Each investor needs to review an investment strategy for his or her own particular situation before making any investment decision.
All expressions of opinion are subject to change without notice in reaction to shifting market or economic conditions. Data contained herein from third party providers is obtained from what are considered reliable sources. However, its accuracy, completeness or reliability cannot be guaranteed.
Past performance is no guarantee of future results and the opinions presented cannot be viewed as an indicator of future performance.
Indexes are unmanaged, do not incur management fees, costs and expenses and cannot be invested in directly. For more information on indexes please see www.schwab.com/indexdefinitions.
Diversification strategies do not ensure a profit and do not protect against losses in declining markets.
Fixed income securities are subject to increased loss of principal during periods of rising interest rates. Fixed-income investments are subject to various other risks including changes in credit quality, market valuations, liquidity, prepayments, early redemption, corporate events, tax ramifications and other factors. Lower-rated securities are subject to greater credit risk, default risk, and liquidity risk.
Tax-exempt bonds are not necessarily suitable for all investors. Information related to a security's tax-exempt status (federal and in-state) is obtained from third parties, and Schwab does not guarantee its accuracy. Tax-exempt income may be subject to the alternative minimum tax. Capital appreciation from bond funds and discounted bonds may be subject to state or local taxes. Capital gains are not exempt from federal income tax.
Treasury Inflation Protected Securities (TIPS) are inflation-linked securities issued by the U.S. government whose principal value is adjusted periodically in accordance with the rise and fall in the inflation rate. Thus, the dividend amount payable is also impacted by variations in the inflation rate, as it is based upon the principal value of the bond. It may fluctuate up or down. Repayment at maturity is guaranteed by the U.S. government and may be adjusted for inflation to become the greater of the original face amount at issuance or that face amount plus an adjustment for inflation.
Preferred securities are often callable, meaning the issuing company may redeem the security at a certain price after a certain date. Such call features may affect yield. Preferred securities generally have lower credit ratings and a lower claim to assets than the issuer's individual bonds. Like bonds, prices of preferred securities tend to move inversely with interest rates, so they are subject to increased loss of principal during periods of rising interest rates. Investment value will fluctuate, and preferred securities, when sold before maturity, may be worth more or less than original cost. Preferred securities are subject to various other risks including changes in interest rates and credit quality, default risks, market valuations, liquidity, prepayments, early redemption, deferral risk, corporate events, tax ramifications, and other factors.
Commodity-related products carry a high level of risk and are not suitable for all investors. Commodity-related products may be extremely volatile, illiquid and can be significantly affected by underlying commodity prices, world events, import controls, worldwide competition, government regulations, and economic conditions.
International investments involve additional risks, which include differences in financial accounting standards, currency fluctuations, geopolitical risk, foreign taxes and regulations, and the potential for illiquid markets. Investing in emerging markets may accentuate these risks.
Currencies are speculative, very volatile and are not suitable for all investors.
The Schwab Center for Financial Research is a division of Charles Schwab & Co., Inc.
(0520-0YDS)
Thumbs up / down votes are submitted voluntarily by readers and are not meant to suggest the future performance or suitability of any account type, product or service for any particular reader and may not be representative of the experience of other readers. When displayed, thumbs up / down vote counts represent whether people found the content helpful or not helpful and are not intended as a testimonial. Any written feedback or comments collected on this page will not be published. Charles Schwab & Co., Inc. may in its sole discretion re-set the vote count to zero, remove votes appearing to be generated by robots or scripts, or remove the modules used to collect feedback and votes.
Brokerage Products: Not FDIC Insured • No Bank Guarantee • May Lose Value
The Charles Schwab Corporation provides a full range of brokerage, banking and financial advisory services through its operating subsidiaries. Its broker-dealer subsidiary, Charles Schwab & Co., Inc. (member SIPC), offers investment services and products, including Schwab brokerage accounts. Its banking subsidiary, Charles Schwab Bank (member FDIC and an Equal Housing Lender), provides deposit and lending services and products. Access to Electronic Services may be limited or unavailable during periods of peak demand, market volatility, systems upgrade, maintenance, or for other reasons.
This site is designed for U.S. residents. Non-U.S. residents are subject to country-specific restrictions. Learn more about our services for non-U.S. residents.
© 2020 Charles Schwab & Co., Inc, All rights reserved. Member SIPC. Unauthorized access is prohibited. Usage will be monitored.
Where We Were
During the final days of the second quarter in 2019, the Federal Open Market Committee (FOMC) began its policy pivot – suggesting an easy money environment.  This policy change came on the legs of a first half seeing the stock market, yet again, scale the wall of worry created by Eurozone economic weakness and a diminishing relationship between the world's two largest economies.  The Fed consistently referred to this policy change as an "insurance policy" that was being taken out as a result of signs of global weakness.  The first cut came on 7/31/2019 which was the first since 2008.  Despite optimism for easier business investment and capital expenditure opportunities, the Federal Open Market Committee's efforts were upended by an additional round of tariffs on Chinese imports while policy makers were hoping to steepen the yield curve, reduce upward pressure on the dollar, and bolster economic confidence via modest rate cuts.  The trade war largely foiled many monetary policy officials' plans.  As a result, the first half of the third quarter was filled with volatility, the tabling of "risk-on", and negatively performing stocks globally.  However, the second half of the third quarter provided a different narrative, as a second FOMC rate cut was met with newfound optimism in the United States and China trade dispute and leading economic indicators within the U.S. remained steadfast.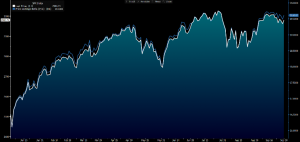 Figure 1 displays the performance of the S&P 500 year to date.  On the right side of the chart is a measure of the index's Price to Earnings (P/E) ratio displayed in the blue line.  As you can see from the most recent time frame on the chart, the index's P/E ratio ended the third quarter at 19.6102, while the 10-year average is 17.81 and the median for the same time period is 17.85 (as displayed in Figure 2).  While equity prices should not primarily be viewed as "overvalued", it is fair to say they are currently reflecting fair market value, as fundamental measures have regained fair market value after a decent correction in price occurring at the beginning of the third quarter.                                                                                                                                                                                        
Where We Are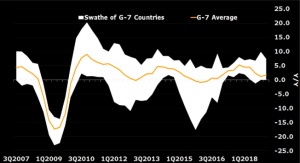 The fourth quarter of 2019 will be primarily focused on two major themes affecting asset classes across the entire spectrum.  The first theme is a dispute on global trade with the second theme being global monetary policy and how it changes and shifts to offset the drag of trade disputes as well as slowing global economic growth.  Regarding the current trade war between the United States and China, the most recent update claims of renewed talks between the two countries beginning again in October.  These discussions between both countries trying to reach an agreement are essential, as we have continued to see cracks develop in global economies and have begun to see the beginnings of cracks here at home.  Globally, Germany has entered a full-blown recessionary environment, Chinese economic data is beginning to show weakness, and the United States has technically entered a manufacturing recession – with the Purchasing Manager's Index below 50.0 (displayed in green in Figure 3).  One of the primary reasons the United States has yet to enter complete recession territory, is the activity on the consumer side.  Displayed in Figure 3 is a blue line charting consumer sentiment measured by the University of Michigan – a leading economic indicator.  The consumer has continued to hold up the economy on its last legs of this expansion.  However, the more volatile the pattern of trade legislation becomes, the consumer and the household may swing from spending to saving.  We have already noticed slowing in business spending and business investment.  Figure 4 displays a marked slowdown in business investment growth (year over year) across the G-7 economies.  The trade war does not only affect companies directly, but also indirectly, as uncertainty increased the cost of capital – requiring a much higher rate of return required for a business or even an individual to undertake an investment.
 Global monetary policy is doing its best to offset some of the drag we are beginning to see.  The Federal Reserve, the European Central Bank, and the People's Bank of China are all currently in monetary easing patterns and are expected to continue to do so.  During mid-September, Federal Reserve Chairman Jerome Powell cited "slower growth abroad and trade policy developments" as the rationale for cutting the central bank's benchmark rate by a quarter percentage point, to a range between 1.75% and 2%.  This pattern is expected to grow as shown in the Current Implied Interest Rate Probability charted in Figure 5.  There is now a 65% chance of another interest cut (orange) against a 35% chance of no change (blue).  This expansion is now 11 years old and is still not fully displaying late cycle characteristics, such as high inflation or elevated interest rates, even though wage pressures have begun to accelerate in response to a very tight labor market (charted in white in Figure 3), and sectors that are centered around personal consumption are still growing. In an attempt to provide a soft landing for the U.S. economy in its 11th year of an expansion, Global monetary policy doves have recently prevailed with rate cuts. Reasons for this insurance policy have been cited as: trade tensions, newly developed domestic political uncertainty, Brexit, falling manufacturing activity, faltering business investment, and a volatile market turning with the U.S.-China trade war.  However, the hawks see the cup half-full.  The U.S. and Japan, two of the three largest economies in the world, are sustaining modest growth (U.S. GDP is plotted in orange in Figure 5), unemployment continues to maintain its all-time-low, consumer and service sectors, accounting for more economic activity than factories, are continuing to hold up well, and the geopolitical concerns that have shaken markets could be on the brink of dissipation.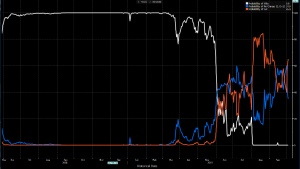 Where We Are Heading
Current economic data and Fed officials' outlook suggests a slowing global environment, but a recession seems more further out than near.  Furthermore, it appears the Federal Reserve will continue its transition into policy containing additional rate cuts to provide further insurance to push out a potential recession.  As a result of a volatile trade dispute between the world's two largest economies, a slowdown within the Eurozone, and political instability abroad, second-half growth forecasts should be lowered to the 1.8 – 2.0 range in the fourth quarter, bringing full-year 2019 growth to approximately 2.3%.  Many of the monetary policy decisions being currently made mirror the 1990's.  In 1990, the Federal Reserve began increasing interest rates, and did so seven times, all the way until 1995.  They then began cutting rates during a period of modestly increasing GDP.  With this noted, the economy is not the stock market, but can be used as a precursor to understand when to make strategic moves in portfolios.  These rate cuts are what most economists believe allowed the United States to continue its economic expansion throughout the entire decade, when it hit hard growth headwinds halfway through this time period.  Important to note, as sometimes it is hard to see through the noise such as: heightened political tensions, overly exuberant or pessimistic economists, analysts fueled by self-interest, and the second tier on Maslow's Hierarchy of Needs – Safety, which can sometimes take shape of financial stability. 
Since 1980, and not including 2019, the Federal Reserve has provided interest rate cuts 17 times when the S&P 500 was trading within 2% of all-time highs.  One year later, the S&P 500 was higher in all 17 periods with the average return in the following year equaling 15%.  Don't fight the Fed.  The path to successful investing is rarely as smooth as we would prefer.  Headwinds and speedbumps come in many different forms and cause investors to constantly question allocations.  As investors, we often desire the logical course of action to weather a recession or market correction.  However, as humans, seeing portfolio values fall often sparks panic and irrational behavior.  It is times like now when it is important to remember markets have been tested before, and there is a time-tested strategic allocation model adhering to remain invested in the market when others flee.  Remember, as mentioned in our previous newsletter on "Staying Invested", the average time it takes for an annual correction year to be met with a positive year is 1.50 years.  In saying this, Acumen's Portfolio Management Committee is prepared to make strategic investment decisions in the near future due to changing market dynamics on the horizon.  Acumen's Portfolio Management team strongly believes the best strategy for weathering volatile markets is adhering to a strategy focused on maintaining market exposure through strategic management within asset class allocations using a mix of top-down macroeconomic analysis and fundamental investment decisions. 
 Regards,
Grant Allen, Portfolio Analyst
Information used in this commentary, along with any graphs created, was from material obtained via Bloomberg L.P.
The opinions expressed in this commentary should not be considered as fact.  Information contained herein is not and should not be construed as an offer, solicitation, or recommendation to buy or sell securities.  The information has been obtained from sources we believe to be reliable; however, no guarantee is made or implied with respect to its accuracy, timeliness, or completeness.  It is suggested that you consult your financial professional, attorney, or tax advisor with regard to your individual situation.  Comments concerning the past performance are not intended to be forward looking and should not be viewed as an indication of future results.  Diversification does not protect against loss of principal. Any charts, graphs, and descriptions of investment and market history and performance contained herein are not a representation that such history or performance will continue in the future or that any investment scenario or performance will even be similar to such chart, graph, or description.
The Federal Open Market Committee (FOMC) is the monetary policymaking body of the Federal Reserve System. The FOMC is composed of 12 members-the seven members of the Board of Governors and five of the 12 Reserve Bank presidents.
The S&P 500 Index is widely regarded as the best single gauge of the U.S. equities market. The index includes a representative sample of 500 leading companies in leading industries of the U.S. economy. All indexes are unmanaged, and an individual cannot invest directly in an index. Index returns do not include fees or expenses.
Price to forward earnings is a measure of the price-to-earnings ratio (P/E) using forecasted earnings.
Acumen Wealth Advisors, LLC® is a Registered Investment Adviser.  Advisory services are only offered to clients or prospective clients where Acumen Wealth Advisors, LLC® and its representatives are properly licensed or exempt from licensure.  Past performance is no guarantee of future returns.  Investing involves risk and possible loss of principal capital.  No advice may be rendered by Acumen Wealth Advisors, LLC® unless a client service agreement is in place.
But as you can see, things are getting…interesting.
Figure 1: U.S. Growth Stocks Relative to High-Dividend Stocks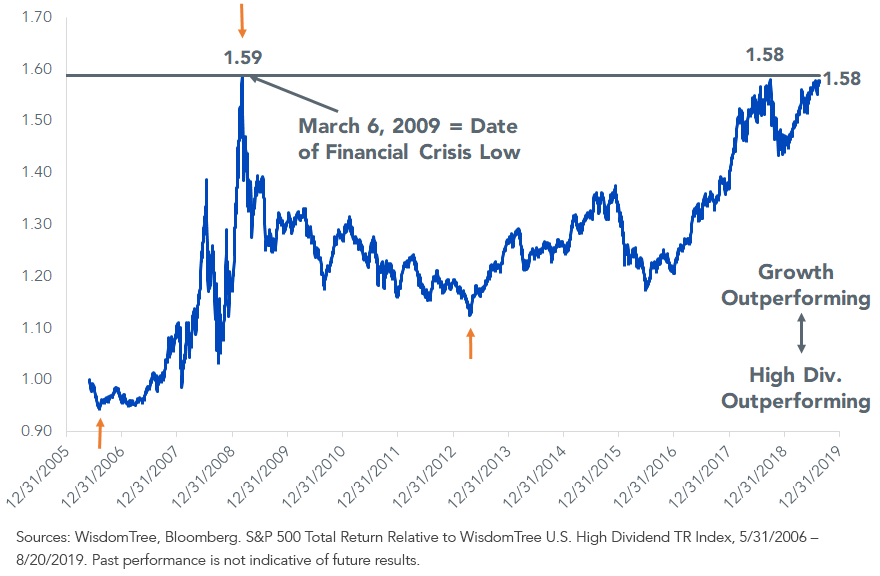 In the chart above, I marked the big turning points with orange arrows. Figures 2–4 show the returns between them.
Figure 2: Index Returns, 8/4/2006 (1st Orange Arrow) through 3/9/2009 (2nd Orange Arrow)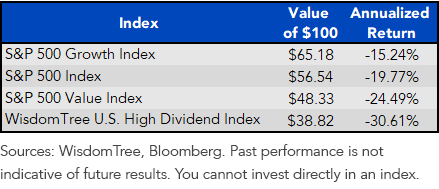 Figure 3: Index Returns, 3/9/2009 (2nd Orange Arrow) through 4/18/2013 (3rd Orange Arrow)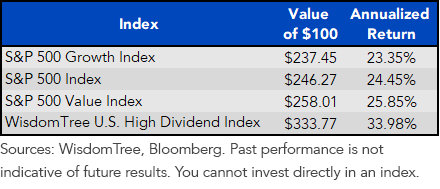 Figure 4: Index Returns, 4/18/2013 (3rd Orange Arrow) through Present (8/20/2019)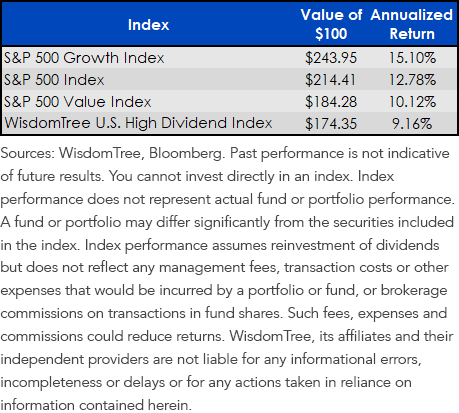 Because high-dividend companies comprise the value stocks of value stocks, notice that our Index did particularly poorly when value was "off"? Likewise, when value came snapping back in 2009, WisdomTree's Index ripped higher, beating the S&P 500 by nearly double digits annually for years on end.
When deep value is on, deep value is on.
It has been forever since hunting for big dividends has paid off, so I can't say if this is just the kind of extreme needed to cause a change in market leadership. But I will tell you this: Respect any chart that is near or touching March 6, 2009, levels.
Unless otherwise stated all data is from Bloomberg, as of 8/20/2019.
Investors should carefully consider the investment objectives, risks, charges and expenses of the Funds before investing. U.S. investors only: To obtain a prospectus containing this and other important information, please call 866.909.WISE (9473), or click here to view or download a prospectus online. Read the prospectus carefully before you invest. There are risks involved with investing, including the possible loss of principal. Past performance does not guarantee future results.
You cannot invest directly in an index.
Foreign investing involves currency, political and economic risk. Funds focusing on a single country, sector and/or funds that emphasize investments in smaller companies may experience greater price volatility. Investments in emerging markets, real estate, currency, fixed income and alternative investments include additional risks. Due to the investment strategy of certain Funds, they may make higher capital gain distributions than other ETFs. Please see prospectus for discussion of risks.
WisdomTree Funds are distributed by Foreside Fund Services, LLC, in the U.S. only.
The opinions expressed in this commentary should not be considered as fact.  Information contained herein is not and should not be construed as an offer, solicitation, or recommendation to buy or sell securities.  The information has been obtained from sources we believe to be reliable; however no guarantee is made or implied with respect to its accuracy, timeliness, or completeness.   It is suggested that you consult your financial professional, attorney, or tax advisor with regard to your individual situation.  Comments concerning the past performance are not intended to be forward looking and should not be viewed as an indication of future results.  Diversification does not protect against loss of principal.
Acumen Wealth Advisors, LLC® is a Registered Investment Adviser.  Advisory services are only offered to clients or prospective clients where Acumen Wealth Advisors, LLC® and its representatives are properly licensed or exempt from licensure.  Past performance is no guarantee of future returns.  Investing involves risk and possible loss of principal capital.  No advice may be rendered by Acumen Wealth Advisors, LLC® unless a client service agreement is in place.
Staying Invested
Recently, Beth Tremaine and Grant Allen with Acumen Wealth Advisors had the opportunity to meet with Mitch Zacks in Chicago.  Since Mitch is a superstar in the realm of Portfolio and Investment Management, they obviously took the opportunity to ask him his thoughts on the current market and his outlook on the economy.  Mitch's number one advice to investors would be "stay invested".  It can be easy for investors to get trapped in "Herd Mentality", generally defined as "how people can be influenced by their peers to adopt certain behaviors on a largely emotional, rather than rational basis."  In terms of investment, they tend to buy when markets are at all-time highs and sell when markets are suffering losses.  According to Mitch and many other economists, these actions could be the biggest reason investors and fund managers so often fail to outperform.  Abundant research supports this concept.  The old advice of "staying invested" is hard for investors to follow, especially when rising volatility and worries about economic growth are flashing recessionary signals.  Even then, staying the course and remaining invested in the markets is often the best way to make sure long-term goals are still on track.  For the past year or more, Acumen has been cautioning investors of the probability of greater volatility in the markets.  But what should investors do with this advice?  What should be their next move?  As boring as the advice may seem, the idea of remaining invested in the market and continuously leveraging the opportunity to lower cost basis and further compound returns is a time-tested and prudent principle.  Investors should adhere to this principle instead of predicting about the potential end to the longest bull market in history.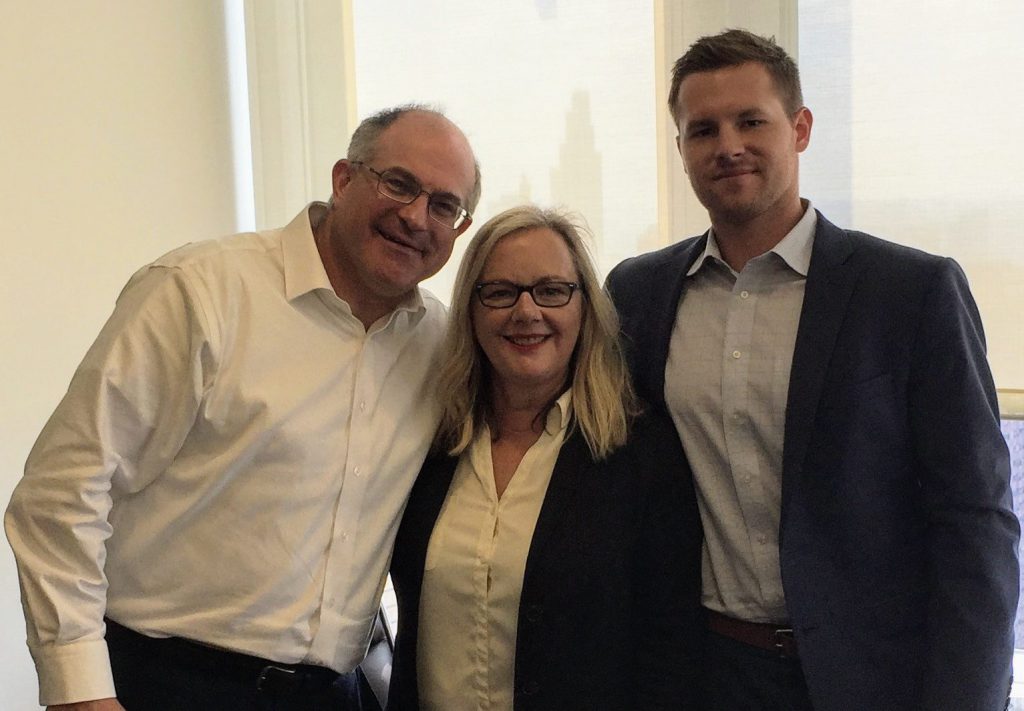 Volatility
As we wrote to investors in our recent Market Insights, Acumen anticipates volatility.  Although volatility is normal, we believe volatility will be more significant in the current equity market.  The source of this volatility will be headwinds in the global economy, attributable to the current trade tensions.  Trade tensions are beginning to be realized in slowing global growth.  Understandably, volatility scares investors.  This fear is especially true given the recent bias fueled by what happened in 2007 and 2008.  This volatility causes political changes, economic hiccups or market corrections to feel like the sky is potentially falling, which turns into its own self-fulfilling prophecy as investors across the market hit the sell button across the board and further depreciate asset prices, causing even greater volatility.  The sharpness of the volatility the markets experience can provide a rational investor with the ability to lower their cost basis and increase their returns.  The chart provided by Trading View below is of the VIX Volatility Index for the last six weeks.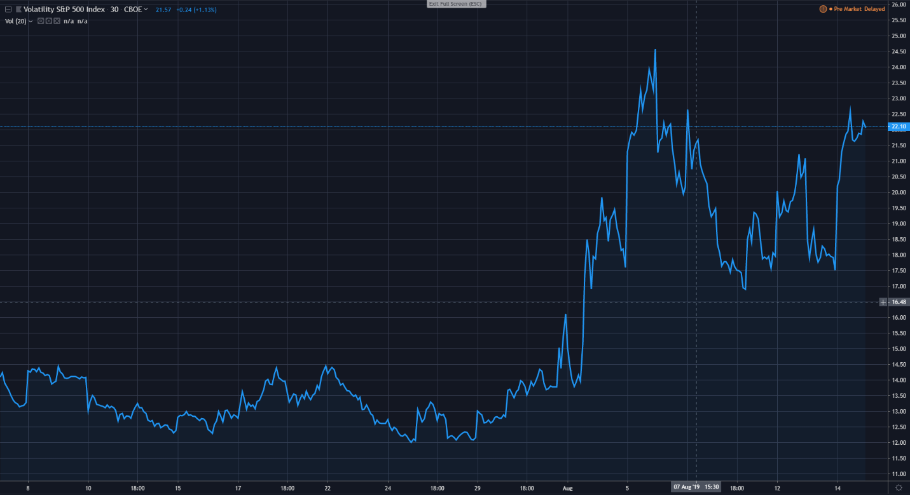 Perspective Matters
Many investors have the tendency to view the equity market and its performance from a short range of time.  Below, two charts are provided by Trading View.  The top is a view of the S&P 500's performance during the last 12 months.  The chart indicates the index has changed paths continuously throughout this specified time period.  In the end, markets generated a relatively flat return.  Show this chart to an investor and suggest they allocate funds to the underlying investment vehicle and you might be met with hesitation.  This chart looks like a lot of trouble just for a 0.11% return.  However, take a step back and look at the index for the last 30 years and we can get a different perspective.  This second chart represents the same index since 1985.  During this span of 30+ years, we can see two heavy market corrections.  One was the .com bubble burst during the early 2000s, and the other was the financial crisis in 2008.  However, if an investor would have stayed fully invested during this time frame, their equity allocation would have generated over 1,500% return; that's 581.708% adjusted for inflation.  The advantage of viewing the equity market from a different time frame is to see that yes, the broad equity market experiences times of prosperity, it experiences volatility, and it experiences downfall.  However, when we take a step back, we can see the equity market has moved far higher up than down.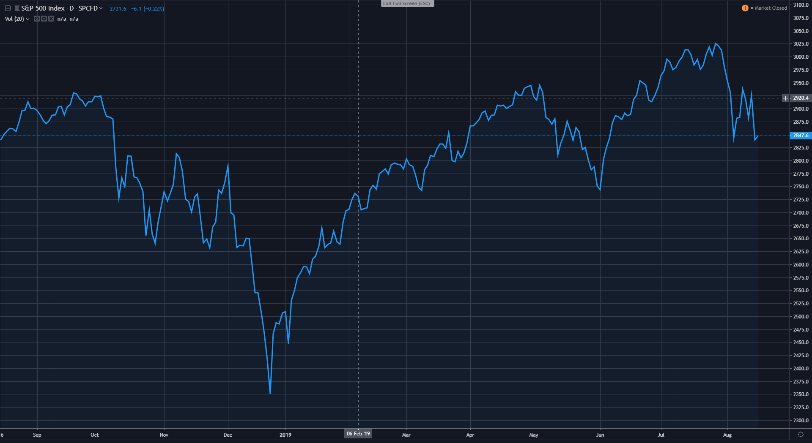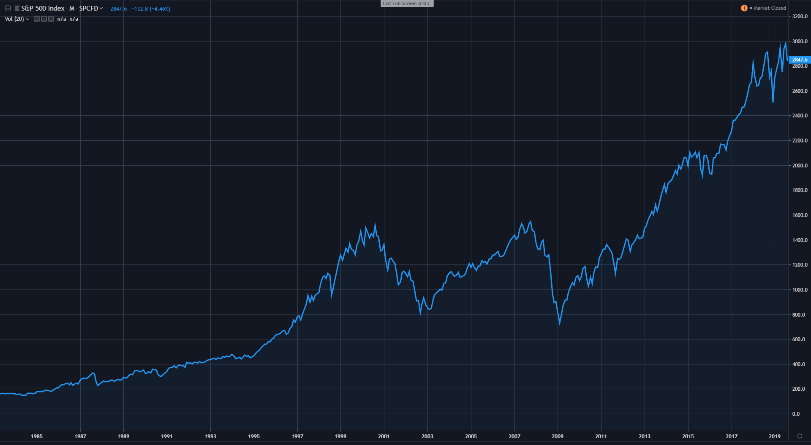 Equity Market Years Up versus Years Down
Investors tend to remember the bad times more vividly and much easier than we do the good times.  When the market experiences a correction, this loss is felt much deeper than the prosperity of a 10-year bull market in its entirety.  In behavioral finance, this is referred to as Loss Aversion.  Loss Aversion is a concept associated with prospect theory claiming the pain of losing is psychologically about twice as powerful as the pleasure of gaining.  This Loss Aversion can be represented in investors' fear to weather the volatility of the market, even though the total number of years the market has performed positively, far outweighs the number of years we have experienced negative returns.  In fact, from 1926 to 2018, the S&P 500 returned positive 68 of those years.  That's 73%.  However, we remember the 25 years of negative returns with much greater disdain than we remember the years of positive returns with favor.  In reality, the chance of a calendar year negative return in the equity market is not incredibly prominent, but when it is, it doesn't seem to last long.  Out of the 25 years we have seen negative returns in the S&P 500 since 1926, 12 of these downturns lasted one year.  For the following year when investors saw positive returns, the average return of the S&P 500 was just over 20%.  Therefore, trying to time the market, and investors taking their money in and out, often leads to either negative returns or, at the very least, missing out on some of the biggest upward movements.
Missing Out
The biggest problem investors face, when trying to time the market, is knowing when to get back in.  Not only can investors cap their gains by selling when fears begin to climb, but they can also find it hard to locate a correct entry point after a correction has run its course.  To show just how fickle finding the correct entry point in the equity market can be, displayed on the following chart is an investor's return on $10,000 invested 20 years ago if 1) they were fully invested throughout the time period, 2) if they missed the 10 best days of performance, and 3) if they missed the 20 best days of performance.  The contrast in these returns only shows how much performance an investor can miss when they incorrectly attempt to time the market.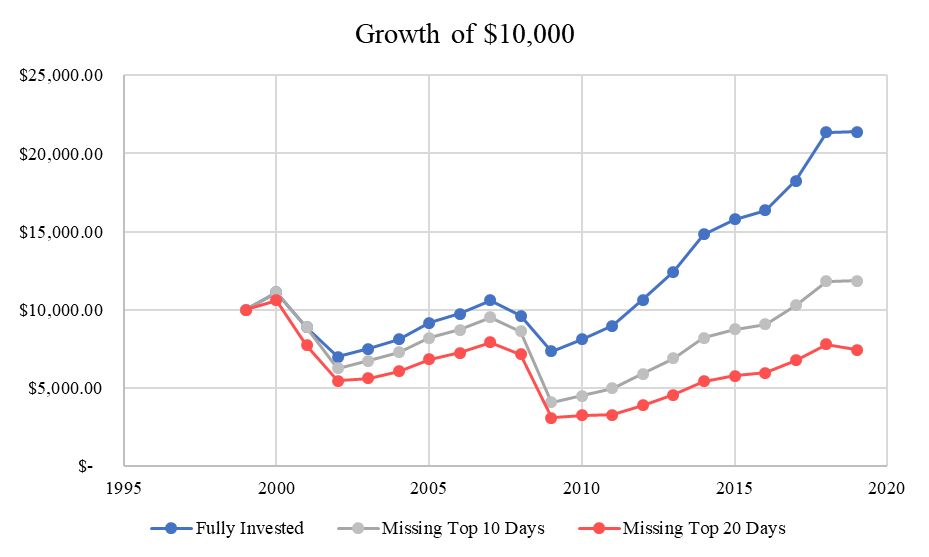 This chart was created from data collected at Yahoo Finance. This graph is hypothetical and for informational purposes only.
Weathering the Storm
Weathering the emotional roller coaster of investing can be one of the hardest behaviors for an investor.  As investors, we often know what the rational action is to weather a market correction or impending recession.  However, as humans, panic is sparked when watching the value of our portfolios fall, and these moments of loss is where we become illogical instead of rational.  Instead of staying focused on the fundamentals and a long-term strategy, which includes defensive positioning, sound investments in stable cash-flow positive equities, and modest tactical adjustments, investors have a habit of letting their emotions dictate decision making.  Rager Young, CFP®, a senior financial planner with T. Rowe Price says, "Attempting to time the market and avoid a downturn by making dramatic changes in your asset allocation can cause dramatic harm to your long-term investment results.  This is because you have to accurately make two decisions that are likely to trip you up; when to get out of stocks and when to get back in."  Instead, it would make more sense for investors to remain fully allocated in a conservative position when volatility rises and global economic growth seems to slow, weather the emotional ride of a correction, and start allocating to a more aggressive positioning when we see the market at its worst.  Below is a chart of the growth of a fully invested $10,000 in the S&P 500 if the investor would have allocated $5,000 more to their position after every calendar year of negative returns.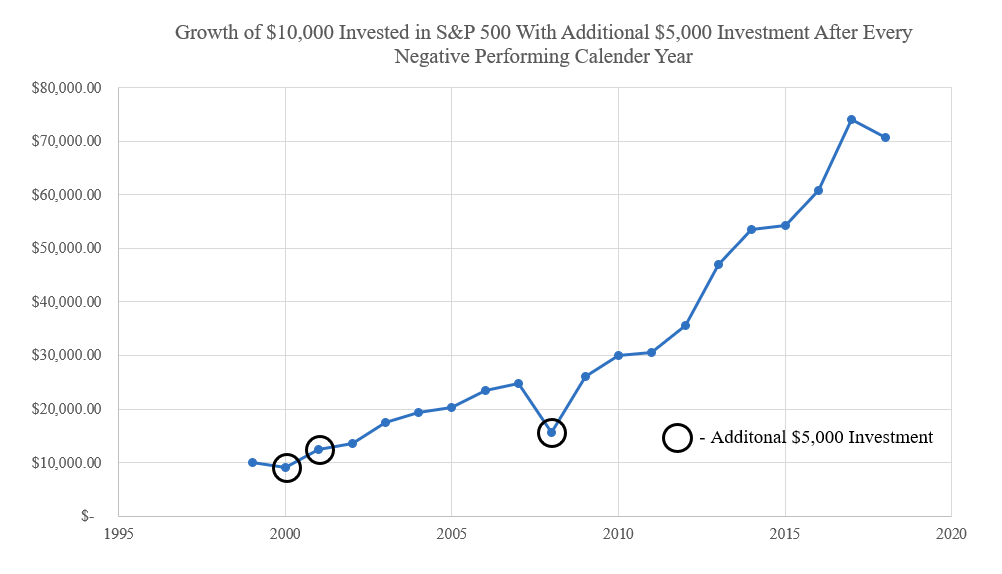 This chart was created from data collected at Yahoo Finance. This graph is hypothetical and for informational purposes only.
Acumen's Portfolio Management Committee believes investors will continue to see rising volatility in association with geopolitical movements and slowing global economic growth.  However, we also believe it is not in the best interest of investors to attempt timing the market.  We have conservatively and defensively positioned our clients' portfolios to weather the storm of the equity market, and we are confident a rational approach to investing will allow investors to reap the rewards of long-term strategic allocations through fundamental research.
Regards,
Grant Allen and the Acumen Portfolio Management Committee
The CBOE Volatility Index, or VIX, is a real-time market index representing the market's expectations for volatility over the coming 30 days.  Investors use the VIX to measure the level of risk, fear, or stress in the market when making investment decisions.
Data of S&P 500 historical returns provided by Yahoo Finance.
S&P 500 Index is widely regarded as the best single gauge in the U.S.  equities market.  The index includes a representative sample of 500 leading companies in leading industries of the U.S.  economy.  The S&P Index focuses on the large-cap segment of the market; however, since it includes a significant portion of the total value of the market, it also represents the market.
All indexes are unmanaged, and an individual cannot invest directly in an index.  Index returns do not include fees or expenses.  Any charts, graphs, and descriptions of investment and market history and performance contained herein are not a representation that such history or performance will continue in the future or that any investment scenario or performance will even be similar to such chart, graph, or description.
Diversification does not protect against loss of principal.  The opinions expressed in this commentary should not be considered as fact.  Information contained herein is not and should not be construed as an offer, solicitation, or recommendation to buy or sell securities.  The information has been obtained from sources we believe to be reliable; however, no guarantee is made or implied with respect to its accuracy, timeliness, or completeness.  It is suggested you consult your financial professional, attorney, or tax advisor with regard to your individual situation.
Acumen Wealth Advisors, LLC® is a Registered Investment Adviser.  Advisory services are only offered to clients or prospective clients where Acumen Wealth Advisors, LLC® and its representatives are properly licensed or exempt from licensure.  Past performance is no guarantee of future returns.  Investing involves risk and possible loss of principal capital.  No advice may be rendered by Acumen Wealth Advisors, LLC® unless a client service agreement is in place.  Comments concerning the past performance are not intended to be forward looking and should not be viewed as an indication of future results.
We hope you and your family are doing well and want to thank all our clients for our firm's continued success. Several items in this quarterly review are worth noting. We appreciate you taking the time to review this information and hope you find it valuable.
Economic Update – The economy is expanding as we head into fall. As a matter of fact, fresh pumpkin sales reached $121 million last year, a 5% increase from the year before (Source: CNBC). Who would have guessed? U.S. equity markets have been pushed higher since the 2016 presidential election by many fundamental forces including healthy economic data and robust earnings. Immediately after the election, however, another force drove equity markets higher: the prospect of corporate tax reform. While reform-related enthusiasm retreated in the wake of Washington gridlock, it has recently resurfaced and is impacting returns in a similar way.
These economic fundamentals overshadowed worries over geopolitics and continued low bond yields. Despite the relative maturity of the US business cycle, recession risks remain muted. The quarter closed with positive equity returns as represented by both domestic and international stock indexes. We remain invested to capture the upside, but have been attempting to shift portfolios to lower volatility. Ultimately, you should remember market pullbacks are a normal part of investment cycles.

Acumen Milestone Reached – Our firm recently exceeded $150 million in client Assets Under Management (AUM). Thank you for all your trust and support.
Equifax Security Breach and General Cyber Security – Acumen Wealth Advisors is dedicated to serving our relationships with an emphasis on confidentially and data security. In today's digital environment with so many data breaches and cyber attacks, it is a significant challenge for individuals and businesses to keep confidential information safe. Our firm released information immediately following the Equifax breach as it exposed sensitive information of 143 million American consumers including social security numbers, dates of birth, and driver's license numbers. In that letter, we outlined ways you may wish to respond to this attack along with options and reminders to protect yourself. We encourage you to reach out to us if you have any questions or would like more information. Our Chief Compliance Officer, Amy Stone, is here as a resource for you.
Our hearts and thoughts go out to those, including our clients, affected by the recent hurricanes. We are thankful for you and are here to help in any way. We hope you enjoy the upcoming holiday season and wish you all the best.
Sincerely,
Reese Veltenaar, Partner
This commentary expresses the opinions of the firm and is for general information only.  It is not intended to provide specific investment advice or recommendations for any individual. Past performance is no guarantee of future results. Inherent in any investment is the potential for loss. It is suggested you consult your financial professional, attorney, or tax advisor regarding your individual situation. Comments concerning past performance are not intended to be forward looking and should not be viewed as an indication of future results. Volatility does not equal risk. Advisory services are only offered to clients or prospective clients where Acumen Wealth Advisors, LLC® and its representatives are properly licensed or exempt from licensure. Investing involves risk and possible loss of principal capital. No advice may be rendered by Acumen Wealth Advisors, LLC® unless a client service agreement is in place. Acumen Wealth Advisors, LLC® is a Registered Investment Adviser.
Surprise!  America's next president is Donald J. Trump.  As said on one of the major news networks, "The most astonishing political story of our lifetimes" may have just happened before our eyes.  As surprised as people are this morning, it's hard to argue Americans headed to the polls to vote for the populist, or anti-establishment, candidate.  The result of this outcome is unclear because, by its very nature, it is different than any other historical precedence.
Market Reaction
Once the election outcome became clear in the early morning, U.S. stock futures cratered with futures on the DOW falling 792 points, or over 5.1% (Bloomberg).  They then pared their losses considerably at market open.  To help with historical context and prospective, the Dow Jones Industrial Average closed down 5.27% the day after president Obama was elected in 2008 (Marketwatch) and closed down 2.4% the day after his re-election in 2012 (USA Today).   The immediate market reaction is unpredictable and, therefore, Acumen's Investment Committee chose not to make major changes in our investment strategy leading up to Tuesday's election.  Now, we are having the conversation, as a firm, about the medium and long-term strategies.  How has the market historically performed between an election and inauguration?  The chart below shows the indifference of the market to the party of the president-elect.
The Impact
If you look out the window, the cranes in downtown Chattanooga are still moving.  People are at work.  Shops and restaurants are open.  It's rarely prudent to make a knee-jerk reaction; however, it is important to evaluate the longer term implications of a Trump presidency and a Republican majority in both the House and the Senate.  We are not likely to see a drastic immediate policy change, but instead, a more gradual change to a more populist policy.  Don't let how you feel about politics impact how you feel about investing.  Acumen's opinion is that the direction will be determined by what issues are chosen to be the focus of the next four years.  Much of what Trump plans to do remains uncertain. This summary document highlights proposals that were offered during the campaign on key issues, including taxes, entitlement programs, and health care (Putnam Investments).  How he intends to pay for these proposals has yet to be reconciled.
If Trump chooses to focus his immediate attention on healing the divisiveness of the presidential election, as seemed to be the tone of his acceptance speech, and then moves to corporate tax reform, spending policies, and accommodative fiscal policy, America can continue to be the leading world economic superpower.  His campaign was correct in that companies are leaving America.  Retaining these companies is possible through developing an educated workforce and incentivizing companies to remain at home.
On the other hand, if our political leaders choose to attack the Fed, having done with monetary policy what Congress has been unwilling to do with fiscal policy, our recent stability may come into question.  The 10-year bond yield jumped over 5% this morning (Bloomberg), signaling the market is headed to higher interest rates.  This spike does appear to be an overreaction.  The possibility of a December rate hike is reduced but not off the table.  Ultimately though, the President lacks the power to fire the Federal Reserve Chair.  Janet Yellen's term doesn't end until 2018.
Trade policy is a matter of national security and, therefore, much of the control lays in the hands of the President.  A protectionist approach could result in a trade war and substantial outflows of foreign investment.  This approach, too, could have a negative impact on domestic markets.   It's one thing to say something on a campaign trail; it's another to put the economy into a recession.  Congress won't see an advantage to a trade war and Trump will lose supporters who will be starting to pay more for goods.  If the policy does include raising tariffs, the nation could be lead to inflation and push the dollar down.  We will remain very watchful of this possibility.
What's Next?
We believe the outcome of the election is not a valid reason to sell good-quality companies or bonds.  We expect though that we will see heightened volatility in the market.  Volatility is not always an enemy if we capitalize on pricing inequities while carefully evaluating risk.  Overseas investing may provide a growth opportunity as well as financials, consumer discretionary, and technology.
America, and its political system, is the envy of most of the world.  Democracy is a substitute for violence and our markets are well established and stronger than any political candidate.  We encourage clients to continue to proactively work with our team to monitor their accounts, capitalize on potential opportunities, and evaluate their risk tolerance.  We are here to answer any questions you may have.
This orginal article was written by ALANA SEMUELS for The Atlantic.
One of the things Hillary Clinton and Donald Trump disagree most strongly about is how to stimulate the economy. Donald Trump has one idea that conservative economists would probably agree with: He wants lower taxes.
"We're going to cut taxes massively. We'll cut business taxes massively. They're going to start hiring people. We're going to bring the $2.5 trillion that's offshore back into the country," Trump said in the third debate. "We're going to start the engine rolling again because right now our country is dying at 1 percent GDP [growth]."
More specifically, Trump has said that he wants to lower taxes for corporations, from 35 percent to 15 percent, so that the nation's economy can grow again. When companies pay lower taxes, the thinking goes, they have more money to spend on research and development, hiring, and producing things—all of which can lead to growth.
After all, the United States has the third-highest tax rates on corporations in the world, according to the nonpartisan Tax Foundation, and there has been no shortage of examples of companies such as Apple moving parts of their operations to other countries to avoid paying such a high rate.
So would lowering the tax rate bring companies back to the U.S., create jobs, and stimulate the economy? Economists are divided on this. On the one hand, if companies get to pay lower taxes, they have more money to invest in new innovations and perhaps more hires. Lower taxes could entice new companies to settle in the U.S., and could convince companies that have offshored some of their business to bring those parts back. But on the other hand, cutting taxes doesn't necessarily mean that companies will create jobs—they could just hold onto the extra cash or distribute the profits to shareholders and those at the top.
Luckily, there is more to go on than just theory. There have been two real-world experiments in which developed countries cut their corporate tax rates in an effort to stimulate economic activity: Ireland's tried it and so has Great Britain. Ireland for decades has touted its low tax rates as one of the reasons its economy has flourished. Its corporate tax rate, at 12.5 percent, is the one of the lowest in the developed world. Perhaps inspired by Ireland's success, the Conservative Party in the United Kingdom, after being elected to lead the government in 2010,began to cut corporate taxes in the U.K., lowering the rate from 28 percent to 20 percent between 2010 and today. The architects of the plan say they intend to further lower the tax rate to 15 percent.
So how did lowering corporate taxes work out for Ireland and Britain? Was the policy a boon to their economies? Did it create the growth spurt that developed Western economies are desperately seeking these days? The short answer: Perhaps, but that doesn't mean it would work for the U.S.
In Ireland, for instance, the economy is booming, at least by some measures. The country's gross domestic product grew at a rate of 26.3 percent in 2015, which is a staggering figure, especially when compared to the growth rate of the United States, which in 2015 was 2.4 percent. Companies including Microsoft, Google, Apple, and Adobe all have subsidiaries in Ireland in order to take advantage of the country's tax rates and permissive tax code. Ask the Irish government, and it will tell you that low corporate tax rates are one of the reasons Ireland is doing so well. "Our competitive rate of corporation tax has been an important part of our industrial policy since the 1950s, and has attracted real and substantive operations to Ireland since then," Grainne O'Rourke, a press officer for Ireland's Department of Finance, wrote me in an email.
According to a study by the nonpartisan Economic and Social Research Institute (ESRI), Ireland's corporate tax rate has been successful in attracting foreign companies to invest in Ireland. If Ireland changed its rate from 12.5 to 13.5 percent, the study found, it would reduce the likelihood of companies choosing it as a location for foreign direct investment by 4.6 percent.
Still, GDP isn't everything. After the release of Ireland's latest GDP figure, some economists called the metric "meaningless." That's partly because some of the growth in GDP is owed to the fact that companies such as Apple last year had to pay higher taxes, producing more money for the government. This highlights the fact that many of the profits reported in Ireland don't necessarily have to do with the on-the-ground business of companies located there, but rather with the accounting of those companies.
In short, Ireland's tax code, which allows companies to use maneuvers like the "double Irish" to port profits from country to country to avoid taxes, is what is most important, not Ireland's rate, said Jim Stewart, a professor of finance at Trinity College, Dublin. Ireland's corporate tax rate may be 12.5 percent, but very few companies actually pay that rate, since they can use accounting strategies permitted in Ireland, Stewart told me. They tend to pay a rate that's much lower, he said, and contribute far less to the economy than Irish companies that don't have a multi-national presence.. "The problem is the nature of the companies attracted to Ireland," Stewart said. "If you are here for tax reasons, you have a particular kind of operation in Ireland—with few linkages with the local economy."
The tax strategies allowed in Ireland fell under public scrutiny a few years ago when the U.S. government began to investigate how Apple was using Ireland and other offshore locations to avoid paying taxes in the U.S. "Ireland has essentially functioned as a tax haven for Apple, providing it with minimal income tax rates approaching zero," a Senate report concluded in 2013. In August, the European Union ordered Ireland to collect $14.5 billion in unpaid taxes from Apple; Ireland is appealing the ruling, saying it doesn't want the money from Apple.
Even if Ireland's economic growth is more than just companies shifting their profits to the nation for tax purposes, the growth can't all be attributed to the country's tax rate, according to Nicholas Shaxson, the author of Treasure Islands: Tax Havens and the Men Who Stole the World. There are other factors that have helped jumpstart the Irish economy, he said, and they'd be difficult to replicate elsewhere. "The corporate tax was an ingredient; it was an important ingredient, but it is not the magic elixir for success that so many people point to," he told me.
For one thing, Ireland's growth really took off in the 1990s. That coincides with when Ireland joined the European Single Market, which allowed goods and people to flow freely across borders between Ireland and other EU members. This was a boon for multinationals: Ireland became an entry point into the European market. Companies could manufacture goods in Ireland and then sell them elsewhere in Europe without tariffs, or set up a presence in the country and then have access to the whole EU. The fact that Ireland was an English-speaking country gave it a huge advantage over other European-market members, Shaxson said.
What's more, in the 1960s, the Irish government oversaw a series of educational reforms, which led to a large number of highly educated graduates coming out of Irish schools in the 1990s. That also helped attract companies looking for a foothold in Europe. Essentially, Ireland became in the 1990s and 2000s a country that was friendly to multinationals, where they could access the European market, hire educated professionals, and enjoy low tax rates. So it wasn't just the tax rates that attracted companies, Shaxson said. In fact, Ireland raised its corporate tax rates a bit, from 10 percent to 12.5 percent, in 2003.
"What happened in Ireland is extremely, exquisitely specific to Ireland," he said. "It was a whole collection of things that all came together that cannot be replicated by any other country in the world."
That's not exactly a strong case for lowering the corporate tax rate in the U.S. So what can be said, then, of the U.K., which has lowered its corporate taxes 10 percentage points in the past decade and plans to further reduce them ahead of the country's departure from the EU?
This one is more difficult to suss out. In the years leading up to 2010, the U.K. was in recession, and its gross domestic product fell 4.2 percent in 2009. It started growing again in 2010, and has grown every year since then (though this year's growth has been weak, in part because of fears of Brexit). But it's hard to attribute that recovery solely to changes in the tax regime, because it came at the same time as the global economic recovery, according to Gavin Ekins, a research economist at the Tax Foundation.
Still, there are some signs that companies are looking at relocating to Britain because of its tax changes. Shortly after the initial rounds of tax cuts in 2011, Ernst & Young said that it was aware of 60 multinational companies looking to move headquarters to the U.K. in the following 18 months. "When you look at a corporation trying to do the best for its shareholders, one of the key issues to address is your tax position," Ferdinand Mason, a partner at the international law firm Jones Day in London, told me. According to Ekins, at the Tax Foundation, the number of UK corporations may overtake the number of U.S. corporations by 2017.
This is a reversal from when the U.K. had taxes that were about as high as those in the United States, Ekins said. When the U.K. tax rate was 28 percent, a number of companies moved their headquarters to Ireland to avoid the tax rate, according to Ekins. Now, some of those companies are moving back. A lower tax rate, then, could stem the tide of companies leaving the U.S. for cheaper pastures.
But cutting taxes won't necessarily jumpstart Britain's economy, said Helen Miller, the associate director of the Institute for Fiscal Studies, in London. The British economy is performing tepidly both because of the Brexit vote and because consumers aren't buying as much as they used to; cutting corporate taxes won't mean that consumers will shop more. And the danger of depending on a low tax rate to attract companies is that another country could make its tax rate even lower, thus erasing any advantage. After all, the UK was losing out to Ireland, and now Ireland is losing some business to the UK. According to the ESRIreport, when the UK lowers its tax rate one percent, the probability of Ireland being chosen as a location for new foreign-investment projects from non-EU companies fell by 4.3 percent. "You can be special and lure in companies as long as you're the only one in town doing that game," Miller said.
What should the U.S. take away from these examples? First off, lowering the corporate tax rate alone won't necessarily make any difference—there are plenty of other things that shape where companies choose where to locate—an educated workforce, a robust regulatory regime, and access to capital among them. Second, it's entirely possible that companies can move somewhere for a low tax rate and still create little economic activity and few jobs there. Third, lowering taxes can lead to a race to the bottom in which many countries compete to lower their taxes.
Indeed, the U.S. would see dramatically lower revenues if it lowered its corporate tax rate. This wasn't a big deal in Ireland when the country designed its tax code, because it had few companies at the time—every company that chose to locate billion-dollar businesses there meant an increase to Ireland's tax revenues, even if it was just tens of millions of dollars. That money meant a lot to the Irish economy. But the U.S. economy, which is much bigger and already has lots of companies based within its borders, is in quite a different situation: The U.S. would lose revenues from its existing companies if it lowered its tax rate, and potentially only gain small amounts of revenue if new companies chose it as their new home. That revenue wouldn't provide much of a bump to the U.S. budget.
Perhaps most important, though, is that the U.S. is already home to many companies, despite its high tax rate. Companies locate their operations and employees in the U.S. and (sometimes) pay a 35 percent tax rate, even though that rate is one of the highest in the developing world. Ekins says the the U.S. actually has a favorable regulatory regime for companies, a large number of willing investors, and an extremely productive workforce.
Why limit the tax revenues from those companies if they've already committed to staying in the U.S. despite its high taxes?
If there's any change to corporate tax policy in the U.S. during the next presidency, perhaps it should focus more on making sure companies can't so easily offshore their profits to places like Ireland and England to avoid U.S. taxes. It's something the Obama administration has been trying to tackle this year; in June, the Treasury Department released new rules that would take aim at foreign companies acquiring multiple U.S. companies for tax purposes. (If a smaller foreign company acquires a U.S. company, the combined firm can often save money by paying foreign, not U.S., tax rates.) There are many more steps the U.S. can take to try and recoup some of the corporate tax revenues it's losing out on. This doesn't necessarily mean lowering the tax rate, but instead changing the tax code so that companies operating in the U.S. actually have to pay its tax rate. It's not as simple as just lowering the rate, perhaps, but it's a change that makes much more sense for the U.S. economy.
This original article was written by  Jeanna Smialek  and can be read here at Bloomberg.
June 2009 was the end of an era: the most painful downturn since the Great Depression of the 1930s drew to a close, and economic healing got underway. The thing is, for many Americans, the past seven years haven't felt like a time of returning prosperity.
That's starting to change. The U.S. recovery has been long by historical standards, since expansions in the post-war era have lasted only about 5 years on average since 1945. Even so, it is only now starting to lift wages, improve pricing power and boost consumer confidence. Here, in charts, is a rundown of how far the U.S. economy has come — and why there's still farther to go.
"We're making progress, we've had seven years now," Federal Reserve Governor Jerome Powell said during a question-and-answer session Tuesday night. "If we can make just a few more years of progress at this rate, where you're growing— admittedly slow growth, but 2 percent inflation and labor market tightening — it feels a lot better than it felt in 2012 and '13, and I want to keep that up."
It's easier to get and stay hired
The most marked economic improvement since the recession ended has come in the jobs market. Unemployment has more than halved and now stands at 4.7 percent, down from a high of 10 percent in 2009. About 268,000 people applied for unemployment insurance last week, down from 595,000 during the second week of June in 2009. Job openings have more than doubled.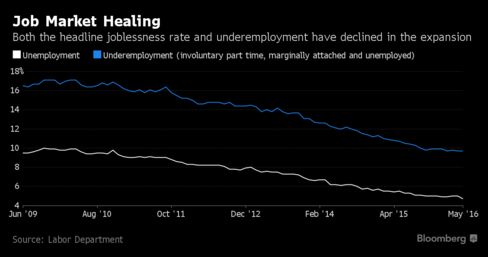 The thing is, that labor-market improvement hasn't always felt great: in some cases, people who lost well-paying, skilled jobs have found themselves in lower-paying positions that don't fit their qualifications. For people who graduated into the early years of the recovery, the still-tough job market may have left permanent scars.
Participation is lower, but mostly due to demographics
One trend that took some shine off of falling joblessness was the simultaneous drop in labor force participation. While much of the decline probably owes to demographic changes, many economists think that at least part of the drop was caused by discouraged job seekers throwing in the towel.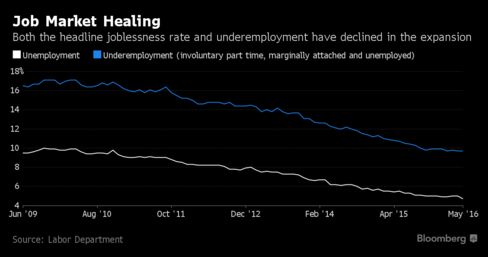 Wages are starting to pick up
Wages are another factor that has kept economic growth from feeling great to many Americans. They stagnated in the wake of the recovery. But recently, they've begun to creep up.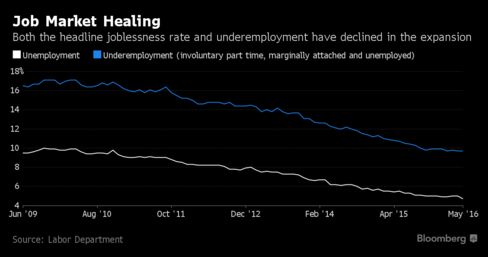 That trend could continue as the economy reaches full employment and companies begin to work harder to attract workers. "While much of this period has been plagued by sluggish growth, low productivity and stagnant wage pressures, the economy is on the brink of crossing an important milestone in the year ahead," Bloomberg economists Carl Riccadonna and Yelena Shulyatyeva wrote in a June 29 analysis.
Here's the catch
One reason that your average American might still feel like the economy isn't working out for them has less to do with fallout from the recession and more to do with a long-run trend. Globalization has led to stagnant incomes for middle-class workers worldwide as lower-income people — who mostly live in developing countries like China and India — and the very rich advanced.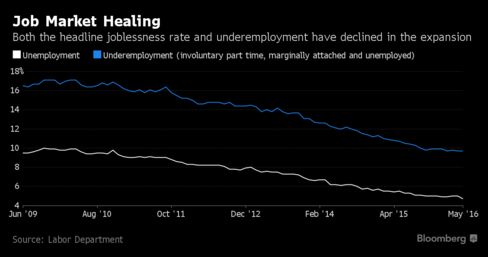 "If you dropped out of high school, you're competing globally for wages, and there's not really a lot of upside right now," said Scott Brown, chief economist at Raymond James Financial Inc. in St. Petersburg. On the other hand, "people graduating from college are getting multiple job offers. It's still very much a mixed bag."
Written by Reese Veltenaar, CFP®, M.Acc., CTFA  Partner
Many Americans will be waking up this morning to the barrage of news coverage surrounding the large pullback in markets as the results of the vote for the British exit from the European Union (EU).  The vote is in favor of leaving the Union.  Reuters reported 51.8% in favor of leaving vs. 48.2% for staying in the EU.
The Dow Jones was up 1.34% yesterday after the first results of the vote came in favor of staying in the EU (Source: Yahoo Finance). Equity markets around the world are tumbling this morning while bonds and gold are rallying. Here is what you need to know:
The Background:
The European Union has been "under construction" for some time and is a series of treaties and agreements aimed at creating a more unified group of countries and a more formidable trade "superpower."
The UK has resisted many of the acts to unify Europe.  It did, however, reluctantly participate in the Maastricht Treaty on European Unity in 1993 after the UK received an opt-out on monetary union.  Important to note is the UK never integrated its currency into the Euro.
The primary reasons given for pro-exit of the EU were:

Economic governance:  UK does not want mandatory participation in other countries "bail outs."
Competitiveness:  Reducing excessive regulation from the combined market under the EU.
Immigration:  More control over immigration and benefits to migrant workers.  This was the political "hot button."
Sovereignty:  Slowing down the pace of further political integration.
The Impact:
The true impact of this vote is unknown and this unknown is what is creating uncertainty in the markets.  Markets dislike uncertainty.
The vote is advisory in nature and not legally binding.  So, although the vote is completed, the exit is not.
The vote for exit was somewhat of a surprise.  S&P futures were down more than 5% at 1:30 a.m. this morning and recently moderated the pull back with S&P Futures down 3.40% at 8:00 a.m. (Source: Bloomberg)
The European markets at one time faced their worse day since 1987 but have moderated their losses.
The British currency (sterling) was down more than 10% hitting a 31-year low as markets fear the impact of this vote on the world's fifth largest economy (Source: Bloomberg).
The pullback in markets stems from the precedent it sets regarding:

What other countries could do if they want to leave the Euro.
The impact this vote has on the countless trade treaties developed over the last few decades between countries in the European Union.
Steps Acumen is Taking:
Clients in Acumen models have been underweight in international securities relative to many of our peers.
Acumen's aggregate fixed income portfolio has longer maturities and are higher in quality then the aggregate index.  Fixed income frequently does well in times of market volatility reducing the overall impact of market sell offs.
Acumen's equity exposure primarily focuses on dividend paying stocks that can be less volatile in nature.
We are determining if and when the market sell off presents opportunities to buy assets at reduced prices.
We encourage clients to continue to proactively work with our team to monitor their accounts, capitalize on potential opportunities, and evaluate their risk tolerance.   We are here to answer any questions you may have.