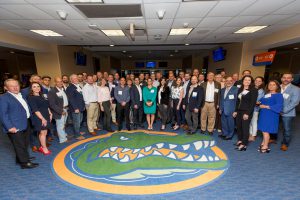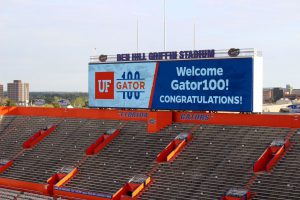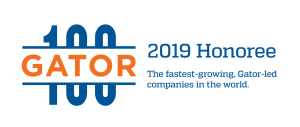 CHATTANOOGA, TN – Acumen Wealth Advisors, LLC® was named to the University of Florida's Gator100 during a ceremony at UF's J. Wayne Reitz Union Grand Ballroom.
Named after the University of Florida's mascot, the Gator100 recognizes the 100 fastest-growing businesses owned or led by UF alumni. Ernst & Young calculated each company's compound annual growth rate (CAGR) over the past three years to generate the ranking.
Acumen Wealth Advisors was the only company in the State of Tennessee to receive this honor and was ranked #59 out of 100 with a CAGR of 37.95 percent.
"Our commitment to the Chattanooga community and helping clients invest intentionally has enabled us to make continued investments in technology, and most importantly an amazing team.  I believe this is the reason for our growth, while maintaining a high level of client service," said Reese Veltenaar, Managing Partner, Acumen Wealth Advisors. "This award is a reflection of the dedication and meaningful relationships our employees and clients have built with each other and we look forward to being a part of our client's financial lives for years to come."
To qualify for the Gator100, companies must have been in business for five years or more as of Sept. 28, 2018 and have had verifiable annual revenues of $250,000 or more every year since 2015.
"The Gator100 honors UF alumni who are founding and growing amazing companies around the country," said Kent Fuchs, president of the University of Florida. "It's an incredible affirmation of the innovative and entrepreneurial spirit of the Gator Nation."
2019 Gator100 by the Numbers: 12 U.S. States represented, $6.7B revenues earned in 2017 and 64,133+ employed by the 2019 Gator100.
*UF is Ranked No. 8 Among Public Universities by U.S. News & World Report*
About Acumen Wealth Advisors
Acumen is an independent fee-based Registered Investment Adviser (RIA) providing customized, active asset management and financial planning.  Acumen proudly serves clients in 18 states and is committed to the fiduciary standard of always acting in our clients' best interests. The Acumen team helps families invest intentionally and to achieve their financial objectives through education, strategic planning, frequent communication, and leveraging the latest technology to build trust and strong client relationships.  For more information, visit www.acumenwealth.com.
###
Acumen Wealth Advisors, LLC® is a Registered Investment Adviser.  This press release is solely for informational purposes.  Advisory services are only offered to clients or prospective clients where Acumen Wealth Advisors, LLC® and its representatives are properly licensed or exempt from licensure.  Past performance is no guarantee of future returns.  Investing involves risk and possible loss of principal capital.  No advice may be rendered by Acumen Wealth Advisors, LLC® unless a client service agreement is in place.
This motivated city is becoming the progressive, risk-taking capital of the Southeast.
Two hours between Nashville and Atlanta is a surprising–but not that surprising-hub for entrepreneurship. Chattanooga may not have a signature yet like Austin or Columbus but that also may be its greatest strength.
I met an unbelievable hot-sauce maker Hoff Sauce and an outdoor tent and apparel company that won Shark Tank investment from Richard Branson called Sierra Madre. Both are incubated at the Hamilton County Business Development Center along with Collider which is advancing what parts can be used in 3D printing.
I also met an analytics company FreightWaves that uses trucking data to inform Wall Street and large businesses on how to make decisions. They won investment from Rise of the Rest, Steve Case's national spotlight on startup cities.
This small city generated close to $2 billion in startup exits in the last five years.
Attracting top marketers
Being directly between two major hubs, Chattanooga has specifically attracted marketers looking to establish an inexpensive location with great resources. After a visit to Chattanooga, Gary Vaynerchuk immediately looked to establish a third office (after New York and Los Angeles) here. Not in Austin, Charlotte, Nashville, Miami or Atlanta where others have but in Chattanooga.
"We're ambassadors for Chattanooga and love to share the story of what a community can achieve when it celebrates and rallies around entrepreneurship," said Mickey Cloud, SVP, Head of Chattanooga Office, VaynerMedia.
Vaynerchuk, who visits personally multiple times each year and creates content whenever he visits highlighting business and leaders to his national audience. Every city should have a Chief Evangelist. Chattanooga has one of the best in Vaynerchuk.
Using internet infrastructure to attract big companies
The Gig, one of the nation's fastest and most ambitious city-wide Internet projects has led to the expansion of tech companies. It's a government-owned, gigabit-per-second fiber network. Some large, emerging tech companies have decided to build here rather than Silicon Valley for a number of reasons.
No-code mobile development platform, Skuid, has raised $25 million from West Coast investors and continues to grow all based on the simple premise that a cloud solution can take the coding out of app and interface design for enterprise.
They're not the only success story. Bellhops has expanded across the Southeast and now nationally with another simple but effective technology. Think of them as the Uber of moving services. Book in the app, they connect you with someone who can handle a local or long-distance move.
Finally CPRWrap is one of the most exciting startups in Chattanooga right now, just named to Austin TechStars. Founder Felicia Jackson's device, which has already caught the attention of national big box stores, has a translucent overlay that guides anyone-even those without training-through the CPR process with step-by-step visual instructions.
A city that gives talent a reason to stay
Success stories are good to know in looking at a place to start your next business. But you also need to know how you'll duplicate it. Chattanooga has three amazing resources beyond the already established startups that are willing to help.
Colab CEO Marcus Shaw leads a tremendous team of people and resources to launch a business. They are the first place to contact when starting something in Chattanooga.
Kristina Montague is Managing Partner of The JumpFund, the first women-led, gender lens venture fund in the Southeast. She moved here over 20 years ago from Seattle and is tremendous resource for female founders.
"We have embraced the entrepreneurial spirit (the first to bottle Coca Cola, start Krystal hamburgers, Little Debbies and Moonpies, and grow a robust logistics ecosystem) and added to re-vision and re-mold this mid-size southern city into one that now attracts business and talent from all over the world. I would not have been able to launch this without the support of other women in our community who take risks, embrace bold leadership, and have the will to initiate change," said Montague.
Stephanie Hays manages The Tomorrow Building, the first co-living building in the Southeast. Steve Case, Gary Vaynerchuk and myself have all stayed there during visits. People can live there for a month or years and collaborate with other entrepreneurs.
Autumn Adams, who I met during my stay and made me try a delicious jalapeño muffin she just baked in the common area, has lived there for two years after relocating from Texas and likes continually meeting new entrepreneurs with new ideas. It's that energy that keeps her there.
And it's that energy that is keeping a lot of people in Chattanooga right now-an outdoorsy group of risk-takers in the most progressive and forward-thinking part of the Southeast.
This original article was written by  Kerry Hannon for Next Avenue.
This is not a how-to column for women over 50 who want to start their own businesses, but rather a "why not?" one.
We hear a lot about sexism against businesswomen and a lack of venture capital for women-owned enterprises. And both of these are serious concerns. But based on my reporting talking to entrepreneurship experts and women business owners, I'd say the deck isn't stacked against women over 50 hoping to launch businesses. In fact, I'd argue that these women hold a few aces that younger female entrepreneur wannabes don't.
"I would say that women over 50 starting their own business actually have more advantages than disadvantages in comparison to younger women," says Kimberly A. Eddleston, a professor of entrepreneurship and innovation at Northeastern University and a senior editor on the EIX Editorial Board of the Schulze School of Entrepreneurship at the University of St. Thomas in Minneapolis.
More Time and Energy in Midlife
"Generally, this is a time in their life when their responsibilities as a mother are substantially less and more easily managed in comparison to those women who are in the child-bearing and early child-rearing stages," Eddleston says. "This allows women in mid-career to become much more involved in their careers and to be ready to devote more time and energy to themselves than to their family responsibilities."
Experts I've interviewed have consistently told me that decades of workplace experience can make a big difference in whether womens' businesses thrive. "The added work experience and the associated boost to their self-confidence significantly assists in the development of their businesses," says Eddleston.
Consider Michele Burchfield, 56, of Pittsburgh. As director of national accounts for the Boston Beer Company and an executive in other roles there before that, she spent 13 years "running all over the country with a full-time nanny raising her kids," she says. It wasn't working. She hit the brakes and resigned to stay at home and focus on raising her two elementary-school-aged sons. But she couldn't stand not working outside the home. So she launched a consulting firm, the MBM Group, catering to clients such as Fiji Water, D.G. Yuengling & Son and Sierra Nevada Brewing Company.
She Started a Beverage Company in Her 50s
Then three years ago, Burchfield took it up another gear. With her high school and college friend Carla Frank, she co-founded Blume Honey Water, a company which makes an all-natural drink combining water and bee-friendly honeys with fruit, herbs and spices.
"Carla and I sunk our teeth into research and worked for two years developing recipes and tasting honeys from all over the world while still working full-time in our respective consulting businesses," says Burchfield.
Last year, Blume Honey Water hit shelves in Pennsylvania, the Washington, D.C., metro area and Colorado. It's now available in the Mid-Atlantic Division Whole Foods stores, 200 Giant Eagle and Market District stores, Mom's Organic's and Buehler's Markets.
"I feel really confident. I have almost 30 years of experience," says Burchfield.
Burchfield is one of a growing number of women starting businesses. Women now make up 40 percent of new entrepreneurs in the United States — the highest percentage since 1996, according to the 2016 Kauffman Index of Startup Activity. And in 2016, there were an estimated 11.3 million women-owned businesses in the U.S., up 45 percent since 2007, according to the 2016 State of Women-Owned Businesses Report from American Express. (Stats on businesses owned specifically by women over 50 are rare.)
What's the pull? In a recent survey, Paychex asked 1,000 aspiring business owners how they feel, and what they fear, about the prospect of working for themselves. Women were more likely than men to say they were eager to start businesses because they wanted to work for themselves.
For women, taking control of your career is one solution to both the gender pay gap and the lack of advancement opportunities that many feel in today's workplace, as I just wrote in this New York Times article.
Interestingly, when I talked to Burchfield about her challenges as a woman starting Blume Honey Water, she was emphatic about gender not being an issue for her. "It has never even crossed my mind. My mom raised me not to think of it that way. She told me to ask: 'What do you need to do to be the best to compete and add value to your business, or who you are working for?'"
No Special Obstacles as Women Entrepreneurs
I've heard similar views repeatedly from the female entrepreneurs over 50 I've interviewed in recent months. Like Burchfield, they don't feel they're facing particular obstacles launching start-ups because they are women.
As I thought about it, it occurred to me that there was a common spine among the women I've met who are becoming entrepreneurs: They cut their teeth in male-dominated industries.
As a result, over the years, they developed thick skins. And that may be a core factor for women over 50 eying new ventures. "Starting your own business is not for the meek," says Burchfield.
More Capital of Their Own
And when it comes to funding their start-ups, women in mid- to late-career generally have more financial capital of their own to invest in their businesses.
"Since differences in financial capital are a key reason that women owned-businesses tend to struggle more than men owned-businesses and have limited growth, the ability to invest more capital provides a substantial advantage to these businesses," Eddleston says.
Burchfield and Frank, for instance, self-funded their Blume Honey Water research while earning income from their consulting practices. The women raised $1.8 million in initial outside investment from friends and family when they were ready to start production.
Launching in a Male-Dominated Field
Destiny Burns, 53, is another successful female entrepreneur who toughened up from years working in a male-dominated field. She opened CLE Urban Winery, a boutique winery and tasting room in her hometown of Cleveland last year. But Burns had initially retired after a 20-year military career as a Navy intelligence communications officer and then spent 13 years in business development positions for defense contractors such as General Dynamics and Northrop Grumman.
When I asked Burns about her challenges as a woman starting a business, she was quick to say there were challenges, but not because she was a woman.
"I have not really encountered any specific bias or issues related to my gender or age" she told me. "I have spent my entire adult and professional life in a man's world… first the U.S. military and then as an executive in the defense sector. Most entrepreneurs I encounter are also men. I am comfortable in male-dominated business situations. I just don't see myself as any different and that's how I conduct myself."
Her saving grace was her experience. She tapped the same skills to sell her business model to lenders that she'd used in her post-military career when she made the case why the government should award her company the business.
Paying It Forward
Another corporate refuge, Barbara Rodgers, 61, launched Nutrition Life Strategies two years ago following a nearly 30-year career as a securities industry executive.
"After struggling with multiple sclerosis at the end of my corporate career, I was drawn to an education and career path in holistic nutrition because of the results I experienced personally in arresting my MS symptoms by changing my diet," Rodgers says. "My goal now is to pay it forward and help others who are dealing with chronic disease."
Like Burchfield and Burns, Rodgers credits her decades of experience in the workplace for preparing her to start her business. "After nearly 30 years in the securities industry — a male dominated industry, especially when I got started in the 1980s — what I'm experiencing now is refreshing. For the most part, anyone I've met in holistic nutrition is very nurturing, supportive and friendly."
Getting Certified as a Woman-Owned Business
For Burchfield, one of the biggest tests was not trying to make it in bro-based world, but the opposite: getting her business certified by the Women's Business Enterprise National Council (WBENC) as a woman-owned business.
"It's a grueling process," Burchfield says. "But we got through it just in time to put the logo on our label and many companies, such as Target and Starbucks, have initiatives to work with WBENC-certified companies." Tapping into the increasingly women-friendly initiatives for capital and advice is a savvy strategy for female entrepreneurs of all ages, as I wrote about in this Next Avenue column.
The best reward for Burchfield: "It sounds romantic, but when we watch someone taste our water and look up and say 'Wow,' you can't stop smiling," she says. "It's like your child taking the training wheels off the bike, and you see them tooling down the road on two wheels."
This original article was written by John Rampton for  Entrepreneur. 
It's easy to get excited about the opportunities that come with a new job. The job comes with a paycheck — and sometimes even a much bigger one than you have had before. However, it's easier than you think to make some financial mistakes when the prospect of a paycheck is right in front of you.
Here are five common financial mistakes that include a few errors I once made myself, but now know better:
1. Immediately making a big purchase.
I remember my first big promotion in my job. It came with a huge chunk of change that I never had before. I was so excited and felt so rich in that moment that I went out and leased myself a pretty cool sports car that came with a hefty monthly payment. However, with the new raise, I figured it would be no problem. It was okay at first but then there were repairs, more expensive auto insurance and extra pricey gas (premium only) that I had not accounted for. Before I knew it, any of the extra income that I had gotten from the promotion was going into that one big purchase, leaving me right back in the same tight spot as before.
The moral of the story here is — don't rush out and immediately make a big purchase like a car or a home. Wait and see what that raise means to your monthly income and research all the costs associated with the purchase beyond just the main ticket item to see if you can actually afford it. And here is a novel idea: why not just save this raise for a while — say, six months?
2. Turning to credit.
While it would seem that people would turn to credit when they don't have enough money, the most common behavior is to go get more credit when starting a new job or getting a raise. It must be the feeling that since they have more money, they can spend more money upfront and pay for it later when that new paycheck comes. However, it's a huge financial mistake to get caught up in the web of credit card companies that offer you rewards, mileage and points just because you think you can now afford to use credit.
This financial strategy should only be used if you can pay off the item within the same period so as to not incur interest charges or carry a running balance. Don't turn to credit when you get a new job. Instead, know that you most likely can save up for that item faster with that larger paycheck now on its way.
3. Not saving for retirement and emergencies.
The new job or raise sends some kind of message to your brain that is often a little inaccurate. You think that now you have more money, you'll be fine should an emergency occur, or you can make up the difference later if you don't put money aside for retirement now. What tends to happen is that no additional money is saved despite having more of it. There is still a short-term mentality in place that deals with only the day-to-day expenses rather than looking at the costs on the horizon. There's a false sense of security that can really hurt you in the long run.
I see every new job as an opportunity to put more money aside each month into various savings and retirement accounts. It's important to have the money there for what is always going to be an uncertain future, including the potential layoff or urge to create your own business. There won't be any money to catch you or encourage you to leap if you haven't already started setting aside a specific amount of money each month. I recommend personally that you have 12 months of cash set aside that you don't touch.
4. Not assessing any additional tax burden.
Whether it's a new job or a raise, it's important to calculate what the additional money means to your income taxes and what you may possibly owe or need to cover in estimated tax payments. You may not realize that there will be extra tax and invoicing expenses related to the rise in income. It's important to know what you are faced with before your accountant surprises you right before taxes are due in April. This will help you know how much to save each month to cover those additional costs rather than worrying about a strategy to pay Uncle Sam.
5. Not revising your personal budget.
Every time your income changes, you need to revise your personal budget. Or, if you still haven't made what some consider a death threat, this is the time to get your budget put together. It's one of the biggest financial mistakes all of us make regardless of whether we got a new job or a raise. We don't realize that every new cost or income stream dictates a revised budget to stay on target and properly manage our finances. A budget is not a threat — but a gift you give yourself.
I used to take the approach that I'll make a budget when I have time but then the budget never got done. Stop what you are doing and put it together right now, so you understand where and how you are spending money. You want to account for all of your money so you understand what expenses can be reduced in order to add to your savings and retirement, or to reveal to you exactly where you can cut your budget in the case of an emergency.
It's easy to make these financial mistakes when you are sitting on Cloud 9 with that new job or promotion. However, it's almost as easy to fix those financial mistakes now and not let them get in the way of creating greater personal wealth for yourself and your family.
This original article was written by Jared Hecht – @jaredhecht for INC.
If you're a small business owner, you've got a lot on your plate. You manage inventory, employees, and customers every day–you're probably not looking to add anything else to your to-do list.
But learning the basics of how credit scores work and why you should care could make a massive difference to your small business. It could be what gets you that $50,000 loan instead of that $5,000 one… Or what keeps your business afloat if times are tough.
Thankfully, there's no need to stress out. Here are answers to the 3 biggest questions about credit scores that matter to your business.
What Exactly Is A Credit Score?
On a fundamental level, your credit score is a measure of how reliable you are as a borrower.
Credit scores take a few different major factors into account and weigh them according to how big of an impact they have on your ability to repay debt. The more you know about your credit and the better you manage your money, the more you can improve your score through thoughtful, prudent financial habits.
The most popular kind of credit score was invented by the Fair Isaac Corporation, now called FICO, and it ranges from a low of 300 to a perfect 850. Everyone has their own rubric for where a "good" credit score becomes an "excellent" one, but here are the general boundaries that most people follow:
Excellent: 781 – 850
Good: 661 – 780
Fair: 601 – 660
Poor: 501 – 600
Challenged: Below 500
The higher your credit score, the more trustworthy you are when it comes to your financial obligations, based on your past actions. Although some people complain that credit scores are unfair, turning subjective judgments into a single number, it's a system based on an overwhelming amount of historical data. How you acted in the past is a great indicator of how you'll act in the future–and that's what your credit score bets on.
So whether you like it or not, credit is a part of your small business's finances. And as it turns out, working on improving your credit builds positive financial habits for the rest of your business, too.
What Affects Your Credit Score?
If you know what affects your credit score, then you can improve it. If you've ever wondered whether you should close that old credit card account or apply for a business loan and a mortgage at the same time, then understanding these factors should help.
1. Your payment history: 35%
As you might expect, when it comes to deciding whether you'll be a good borrower in the future, your credit score heavily weighs the payments you've made in the past.
If you always pay back every business loan, credit card statement, and mortgage bill on time, in full, then you're doing great. Being on time with your payments is most important, but being on time with multiple kinds of payments is an added plus.
In terms of how a late payment will impact your score, there are two factors taken into consideration:
How late did you wind up making the payment?
How often did you make a late payment?
Delinquent payments stick around on your credit score for 7 years, so while making a late payment isn't a lifetime offense, it will impact you for a long time coming.
2. Your debts owed: 30%
This category is often called credit utilization as well, and it essentially asks one question:
Of the credit you have, how much is available for you to use?
You can express this as a ratio–the credit utilization ratio–to figure out how much leeway you have with your outstanding debt and credit.
This might seem like an odd factor, but here's the big idea: the more credit you have that's still available, the more financial wiggle room you have if something goes wrong. The higher your ratio, the less cushion you have.
For example, if you've maxed out your credit limit of $40,000 across your credit cards and line of credit loans, then you have nothing protecting you in case of an emergency. But if you're only using $5,000 or $10,000 of that available credit, then your credit score will reflect your strategic planning.
3. The length of your credit history: 15%
The more data that FICO has on your borrowing and spending habits, the better they can predict your future decisions. That's why new borrowers with short credit histories tend to have lower scores–because FICO can't really label you as trustworthy without enough history to analyze.
A longer credit history will definitely help your score… So long as that's a history of paying your lenders back on time and keeping your utilization manageable.
Also, your credit history is an average, so be careful when canceling those ancient credit card accounts: they could bring your history length down and potentially lower your score.
4. Your "new credit": 10%
This category takes into account your credit inquiries or the reports that FICO receives each time you apply for a new kind of credit.
Maybe you applied for a business loan, an apartment rental, a car purchase, or a new credit card. FICO receives a report of your credit getting checked by a lender–and since new credit accounts come with these credit inquiries beforehand, a small drop in your score might happen.
5. Your credit mix: 10%
Finally, your credit mix is just a reflection of the diversity of your borrowing habits.
Making on-time payments with a business loan is great, but making on-time payments with a business loan, a mortgage, and an auto loan is excellent.
You probably don't want to go out of your way to take on loans you don't need, so don't worry: this factor only accounts for 10% of your credit score, and you won't be penalized much for not borrowing too much all at once.
So Why Should Small Business Owners Care About Their Personal Credit?
This is the big question.
Now that you understand what a credit score is and how it works, why should you care? Especially about your personal credit score, if you're running a small business?
Your personal credit score will have an enormous impact on your business's eligibility for business loans–plain and simple. Data shows that higher personal credit scores are correlated with better eligibility for business loans, lower interest rates, and larger loan amounts. The higher your personal credit score, the better business loan you can get, generally speaking.
Why?
The answer is deceptively simple. Lenders believe–and the data proves them out–that small business owners' personal financial habits are often the same as their business habits. If you make late payments on your mortgage, they assume you'll do the same for a business loan.
One of the best things you can do for your business's financial borrowing future is to improve your credit score. Don't wait–get started today.
This article was originally written by BRANDON TURNER for Entrepreneur.
Why do the rich keep getting richer? Most of the time, it's not because of luck. It's not because of the family they were born into. It's not because they won the lottery.
Wealthy people simply do things differently.
It may not seem fair, but the fact is the "income gap" is increasing and most financial experts only see this trend continuing with no end in sight.
In preparation for this column, I sat down with someone who knows far more wealthy people than I will likely ever meet: Jeff Rose. Rose is a certified financial planner, 
author
 and blogger at 
GoodFinancialCents.com
, as well as a millionaire himself, who dedicates a good portion of his time to helping people become, and stay, wealthy.
Related: 8 Reasons Why You Don't Have Money
I asked Rose why he thought the income gap was growing. He mentioned five primary things that wealthy people simply do differently than the rest of the world. Here are those five, in no particular order.
1. They take risks.
Rose explains that the wealthiest people he works with routinely "throw spaghetti at the wall to see what sticks." In other words, they try a lot of different things, knowing that a lot of it will fail.
They take those risks because they know that failure is just part of the process in discovering what will truly work to build more wealth. Furthermore, as Rose explains, the rejection of those ideas invigorates the wealthy into finding what will work, a stark contrast to most of the population that simply looks at failure as a road block.
2. They invest in themselves.
According to Rose, "wealthy people don't look at the money spent on personal growth as an expense, but an investment."
While many individuals conserve every penny equally, the wealthy understand that strategically investing in themselves will produce a far greater return than any stock, real-estate investment or business venture.
Whether it's purchasing a book, hiring a coach, joining a paid mastermind group or another source of paid self-improvement, the wealthy see this as an investment. Do you?
3. They associate with those they want to emulate.
When the human body gets too hot, it produces sweat in an attempt to cool down. When it becomes too cold, it shivers to produce heat. In other words, the human body is constantly adapting to keep its temperature at the same comfortable spot. This automatic leveling is a biological process known as homeostasis and is found in numerous aspects of life.
From human biology to the temperature of the earth to a car's cruise control to the thermostat in your house, homeostasis is a fact of life that governs nearly every aspect of your existence. And, as the wealthy have discovered, homeostasis can also be a powerful way to build wealth.
As Rose stated bluntly to me, "If you want to be rich, hang around rich people."
Related: 7 Lessons About Money From the World's Richest People
Or as financial TV personality Dave Ramsey often says, "if there are four broke people in a room, you'll be the fifth."
Wealthy people have discovered that they can grow their wealth simply by associating with those who are even more wealthy. Humans pick up the habits and strategies of those in their immediate surroundings, and the wealthy have learned to use this homeostasis to their advantage.
4. They have a dedicated morning ritual.
While most of the world is hitting the snooze button 14 times in a row each morning, the wealthy have already begun increasing their net worth.
"Most of the multi-millionaires I know have a dedicated routine, a ritual, that they do each and every morning," Rose says.
This morning ritual could include exercise, affirmations, goal reviews, breakfast or whatever else helps them start their days with a bang. They start strong, accomplishing more before noon than more people accomplish in a week.
For those struggling to get started each morning on the right foot, Rose recommends two books:
In my own life, I've found this truth incredibly powerful. Since instituting a morning routine, I've quadrupled my income, written and published a bestselling real-estate investing book, lost 10 pounds, bought my dream house and deepened my relationship with my wife. Not bad for just a few minutes each morning of dedicated routine.
5. They review their goals consistently.
Finally, according to Rose, the rich have clearly defined goals and continually review them to track their progress, make changes and develop strategies for meeting those goals. This process of immediate feedback allows the wealthy to make quick changes to their plans to keep the course in a rapidly-changing world.
While most of the human population gives little to no thought on their futures, the wealthy are reminded daily of where they are headed. Like a family taking a cross-country trip in their minivan, the rich have their road map spread out on the dashboard so they can navigate the fastest, easiest route to their destinations.
Rose admits that the wealth gap is far more complicated than a simple "five-point blog post." However, he continually witnesses these five traits guiding the lives of those who are getting richer and has used them in his own life to create multiple businesses and build some serious wealth himself.
These five actions create a positive-feedback loop that will continue to make the rich richer, and there's no sign of that ceasing. The good news is, however, these five actions are all things that the average American can put into practice today. Will you?
This original article was written BY JAKE NEWFIELD for Inc.com.
 What separates the successful from the 
extremely successful
?  Is it just a difference of luck, or a convenient uptick in the market?
Did Mark Zuckerberg earn his wealth merely by stumbling onto the newest media trend, or is there something deeper and more meaningful that creates a billionaire?
After examining and interviewing over 35 billionaires, the commonalities are shocking.  While many of the world's wealthiest people have earned their riches in drastically different ways, they all share 10 traits.  Whether their success came from technology, oil, investments, or retail – these 10 traits hold through in every single case.
Which traits do you have?
1. Insatiable desire for money and success
It's hard to satisfy a billionaire, and it was especially hard to satisfy them before they reached their pinnacle of wealth.  Complacency and content are two of the most dangerous traits for someone who wants to accumulate wealth.  By always striving for more, billionaires are able to achieve their success.
2. Entrepreneurial mindset
Becoming a billionaire starts with thinking like one.  The billionaires we spoke with emphasized their inclination towards finding their own path, creating their vision, and growing it to become a reality. Being able to blaze your own trail and create solutions is part of what billionaires attribute to their success.
3. Relentless Work Ethic
Billionaires aren't made overnight.
Whether you have a great idea or the means to accomplish it, creating enormous wealth takes an equally enormous amount of effort sustained over a long time. Persistence and devoted energy over a sustained period of time is necessary to see your dream through fruition.
4.  Empathic Ability
Successful people can make friends with anyone.
To execute deals and grow business, you need to be able to get along with people.  Even further – you need to be able to connect with people and get them to favor you.  A billionaire's ability to persuade and communicate with other people is pivotal to their ability to succeed.
5. Creativity
New money doesn't come from old ideas.
All billionaires have the ability to innovate, to create new ideas, and to take common ideas and turn them inside-out.  This comes from finding problems, understanding consumers, and creating solutions to problems.
6. Ability to Motivate Others
Being successful requires a talented team to back you up.
There is no person to ever make billions of dollars without the help of other people.  If you can motivate others to help you achieve your goals, you will be able to go immensely further than you would alone.
7.  Constant Dissatisfaction
People who achieve satisfaction easily tend to be complacent.  If you are always dissatisfied, then you are always trying to improve, to make more money, to be better.
The billionaires today didn't spend a week celebrating when they made their first million.  They put the money in the bank and went back to work.
8. Willingness to Take Risks
Rarely is the winning lottery ticket handed to you.
Every billionaire has had to take a big risk at one point in his career.  Elon Musk is known for investing all of his earnings from PayPal into Tesla and SpaceX, and in doing so risked everything.  Yet in doing so, he put himself in a position to make a lot more money than he ever had before.
9. Coachability & Hyperfocus
Nobody is born with the ability to do everything on their own.
To be successful, you need to learn the basics from other people, and find mentors who appeal to your goals.  At the same time, billionaires are able to hyper-focus on one task or one goal at a time, until that goal is completed.
10.  Big-Picture thinking
Big ideas require big-picture thinking.  Billionaires are dreamers whose willingness to win is strong enough for them to fight through every obstacle in their way.
Science Says 92 Percent of People Don't Achieve Their Goals. Here's How the Other 8 Percent Do.
This original article was written by MARCEL SCHWANTES for Inc.com.
Did you know that a staggering 92 percent of people that set New Year's goals never actually achieve them? That's according to research by the University of Scranton.
I've done it many times, and if you're like me — a driven, type-A entrepreneur — failing to meet goals can set you back and leave you discouraged and frustrated. (I even felt it as I typed that sentence.)
Here's the thing: If you want to break the cycle, do what the other 8 percent of goal-setters — the successful ones — do consistently and exceptionally well.
Set goals that are specific and challenging (but not too hard).
Research by Edwin Locke and Gary Latham found that when people followed these two principles — setting specific and challenging goals — it led to higher performance 90 percent of the time.
Basically, the more specific and challenging your goals, the higher your motivation toward hitting them. That explains why easy or vague goals rarely get met.
Here's an example: If your goal between now and the end of the year is to, say, lose 20 pounds, that  may be challenging, but it's not specific enough.
Eliminate vagueness and make it more achievable by stating it this way: During the month of August, I will lose five pounds by cutting off refined sugar, breads, and all fast food. I will also walk briskly for twenty minutes every day.
When you have that much clarity around your goal, your chances of hitting the mark increase dramatically.
On the flip side, goals that are too difficult to hit don't get met either. While it's important to challenge yourself, nobody completes a goal when he/she is overwhelmed by facing a mountain they can't climb.
If you find yourself with such a scenario, break down your BHAG (Big Hairy Audacious Goal) into smaller bites you can actually chew. Use the same process of defining specific and challenging marks to hit when mapping out the smaller goals that will lead you to your final destination.
Questions to ask yourself: How challenging is this goal for me? Am I excited about reaching this goal?  Is it too easy? If so, can I make it harder without it overwhelming me? Is it too complex? If so, how can I break it into smaller parts so I don't get overwhelmed?
Be passionate about your goals and committed to the end.
Simply put, the 8 percent of goal-setters who succeed want it, and badly. So ask yourself: What is my level of commitment? Are you totally sold out for reaching your goal? When obstacles pop up along the way, will you toss in the towel?
The 8 percent have an internal compass that keeps them locked in until they reach the top of the mountain. It's a belief system of "do whatever it takes" that is intrinsically motivated at their core.
Take a quick moment and check in with yourself. If at the core of your being you don't really have the desire or passion to pursue the goal, it doesn't matter how specific, challenging, or sexy your goal may sound — you're not going to reach it.
Questions to ask yourself: How badly do I want it? Who's holding me accountable to the end? Is my heart truly in it from the start? What's life going to look like once I complete the goal? In the end, will it be worth it?
Use a feedback cycle to track progress.
You're human — you're bound to fall back into old habits, procrastinate, or lose motivation. To counter these things, your chances of hitting a specific goal increase greatly if you're getting frequent feedback that will keep you on track and help you to adjust accordingly.
That's why the coaching profession is booming. People who are dead serious about meeting their goals benefit tremendously from the feedback and accountability system afforded in a coaching process.
Side note: Managers who are coaches typically have an edge with employees over managers who don't coach. They get high marks by providing consistent feedback through one-one-one meetings that motivate employees toward completing goals.
Align all your goals.
The 8 percent align their short- and long-term goals toward conquering the top of the mountain. This leads to happier lives, says Jonathan Haidt in The Happiness Hypothesis: Finding Modern Truth in Ancient Wisdom:
"The psychologists Ken Sheldon and Tim Kasser have found that people who are mentally healthy and happy have a higher degree of 'vertical coherence' among their goals — that is, higher-level (long-term) goals and lower-level (immediate) goals all fit together well so that pursuing one's short-term goals advances the pursuit of long-term goals".
Lean on trusted advisors.
Seeking out expert guidance and advice makes a big impact on achieving your goals. That's why successful people are no lone rangers. They surround themselves with mentors and advisors who will support them on their journey.
Think about three or four people you can recruit that are further down the path. Make it a monthly habit to share your goals in the context of a mastermind meeting where you can glean wisdom,  insight, and advice to steer you toward your goals.
Avoid multitasking.
The most successful people are very patient and live by the motto "one step at a time." They also avoid juggling many things. You think multitasking is still a good strategy for success? Research says it's a myth and can be damaging to our brains. You end up splitting your focus over many tasks, losing focus, lowering the quality of your work and taking longer to hit your goals.
The 8 percent are smart enough to work on several smaller chunks to complete a big goal. But they do it by knocking one down then moving on to the next one.
As you break the goal down into smaller chunks, each of those chunks should have their own deadlines. Amy Morin in Forbes calls these "now deadlines":
"Even if your goal is something that will take a long time to reach — like saving enough money for retirement — you're more likely to take action if you have time limits in the present. Create target dates to reach your objectives. Find something you can do this week to begin taking some type of action now. For example, decide 'I will create a budget by Thursday,' or 'I will lose two pounds in seven days.'"
Bringing it home.
While you may think these successful 8 percenters are born predisposed to these talents, research says that successful people achieve their goals not simply because of who they are, but more often because of what they do.
Aristotle nailed it more than 2000 years ago when he said, "We are what we repeatedly do." By practicing these skills, expect to dramatically improve your rate of finishing strong.
This article was originally written by AJ AGRAWAL CEO, Alumnify for INC.com
Financing is always the first big concern for any business leader. Young entrepreneurs have no business background and this is the first time they are trying to start a business. It can seem impossible to get the money you need in these conservative times.
If you don't know where to turn, this guide is going to show you some of the options young entrepreneurs have for funding their business ideas.
Traditional Lenders
The first option is always traditional lenders. It could be a bank or a credit union. The traditional route is often scorned by entrepreneurs today, but banks are still lending money to startups and small businesses. What they aren't doing is funding experimental ideas.
If your business idea has a reasonable chance of success and it's not completely different from anything else ever seen in the world before, banks may very well hear you out.
Government Lenders
The government knows how important it is to help boost small business in the US. Government lenders are traditional lenders working with government arms like the Small Business Administration (SBA). The SBA helps lenders to give more money to entrepreneurs by taking away some of the risk.
There are a range of popular programs across the state, and these change all the time, so you have to be prepared to do your research to see what's valid in your part of the country.
7a Loans
A 7a loan is a type of loan that helps businesses that don't have any real collateral. Entrepreneurs are perfect candidates for this loan because they may not have any personal or business assets to speak of. These loans are reasonably difficult to acquire, though. But the 85% repayment guarantees make this a loan worth applying for.
Venture Capitalists
Venture capitalists are the innovators and the experimentalists of the business world. They are looking for entrepreneurs who have ideas with huge profit potentials. As long as you can prove your idea works at a small level, you may be able to convince a venture capitalist to back you. According to Head Of Growth, Sabri Suby of online marketing agency, King Kong, "Venture capitalists are literally scaling tools, and they could help make your business an international success."
There are even venture capitalist companies investing in people by offering entrepreneur scholarships. As well as money to get your company off the ground, they will provide you with access to qualified business mentors with a high level of knowledge in their industries.
Not only will you be able to launch your venture but you will be doing it under the guidance of someone who really knows what they are doing.
Angel Investors
Angel investors are slightly different from venture capitalists in that they are looking for more than a quick profit. They mainly specialize in the tech industry, but you can find angel investors looking for a wide range of business opportunities. You should keep in mind that angel investors tend to be individuals not corporations, so they tend to have less money to invest in you.
Despite being different from venture capitalists, you should approach a pitch to angel investors in much the same way. Your business plan should be solid and you should demonstrate the capacity for scaling.
Family and Friends
But sometimes you may not want to share your business and you don't want to take on the risk associated with a traditional loan. There are many entrepreneurs who decide to seek help from family and friends. You will usually have a smaller amount to get started with, but at least you know that you won't be paying huge interest rates and you are not going to be under constant pressure to please shareholders.
This doesn't mean you should take the lending of money any less seriously, though. To avoid creating conflict, draw up a contract that says exactly how much you have borrowed, the monthly repayments, and any interest (if desired).
Conclusion
There are so many options available to young entrepreneurs who want to start their businesses today. If you are ready to get your business idea into the real world, it's time to start looking at the options available to you.
What do you think are the best investment opportunities for you?