President Biden's administration has outlined a tax policy built upon the agenda introduced during his campaign. Biden's tax plan focuses on raising taxes on corporations and affluent households, while increasing credits for moderate- to lower-income households. With Democratic control of Congress, changes outlined in President Biden's tax plan have an increased possibility of becoming a reality. At what time, in what form, and to what extent remains to be seen; however, another round of tax law changes is likely on the horizon.
Having adapted to frequent, and sometimes major, legislative changes in recent years (namely the TCJA, the SECURE Act, the CARES Act, and most recently, the American Rescue Plan Act), you may be understandably concerned about what changes could be imminent. High-income households, in particular, have been targeted for tax increases under Biden's tax plan. By familiarizing yourself with President Biden's tax plan now, you can be positioned to take action and seize planning opportunities when changes are implemented.
Take a look at this checklist to help guide you through conversations regarding the highlights of President Biden's tax plan, along with the companion piece "How Might President Biden's Tax Plan Affect Me?".
You may find this flowchart on Acumen's Resources page: As a High-Income Taxpayer, How Might President Biden's Tax Plan Affect Me?
If you'd like to discuss your personal situation and learn more about how Acumen can help you Invest Intentionally®, please contact us.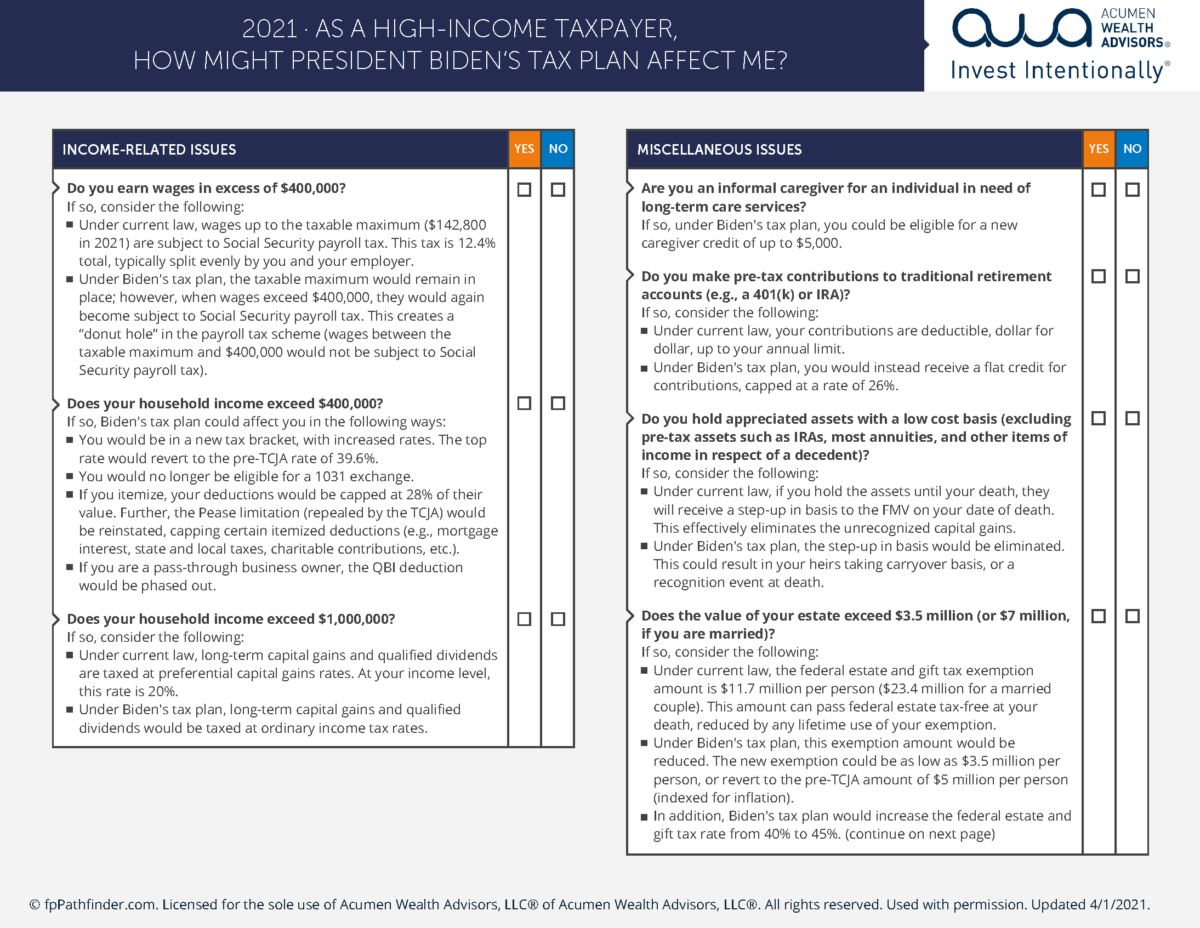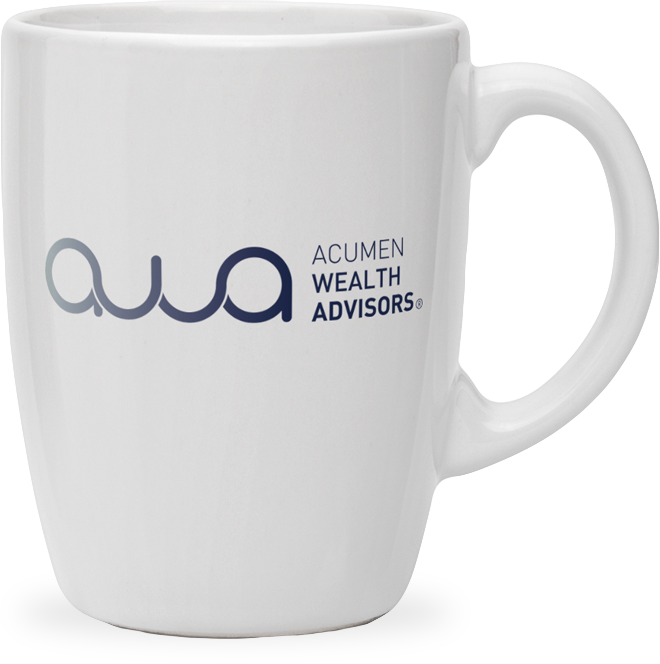 Ready to Connect?
Our mission is to help you and your family Invest Intentionally®.
Contact us today to start your journey.
Start your journey
Income tax planning is critical to solid financial planning. Navigating our complicated federal pay-as-you go income tax system can be difficult. Adding further complexity, you must understand and adapt to changes in tax laws and in your personal circumstances. In each tax year, it is important to ensure you are properly paying your federal income tax liability in order to avoid penalties. Frequently, you may need to make estimated payments to avoid penalties for late payments and/or underpayments.
We have a flowchart to help you guide through an estimated payments analysis. The decision points identify factors that may trigger a need to make or increase estimated payments, including:
Self-employment, rental, and investment income
Unexpected increases in income
Multiple sources of income
Underwithholding
You may find this flowchart on Acumen's Resources page: Do I Need to Start Making Estimated Federal Income Tax Payments for 2021?
If you'd like to discuss your personal situation and learn more about how Acumen can help you Invest Intentionally®, please contact us.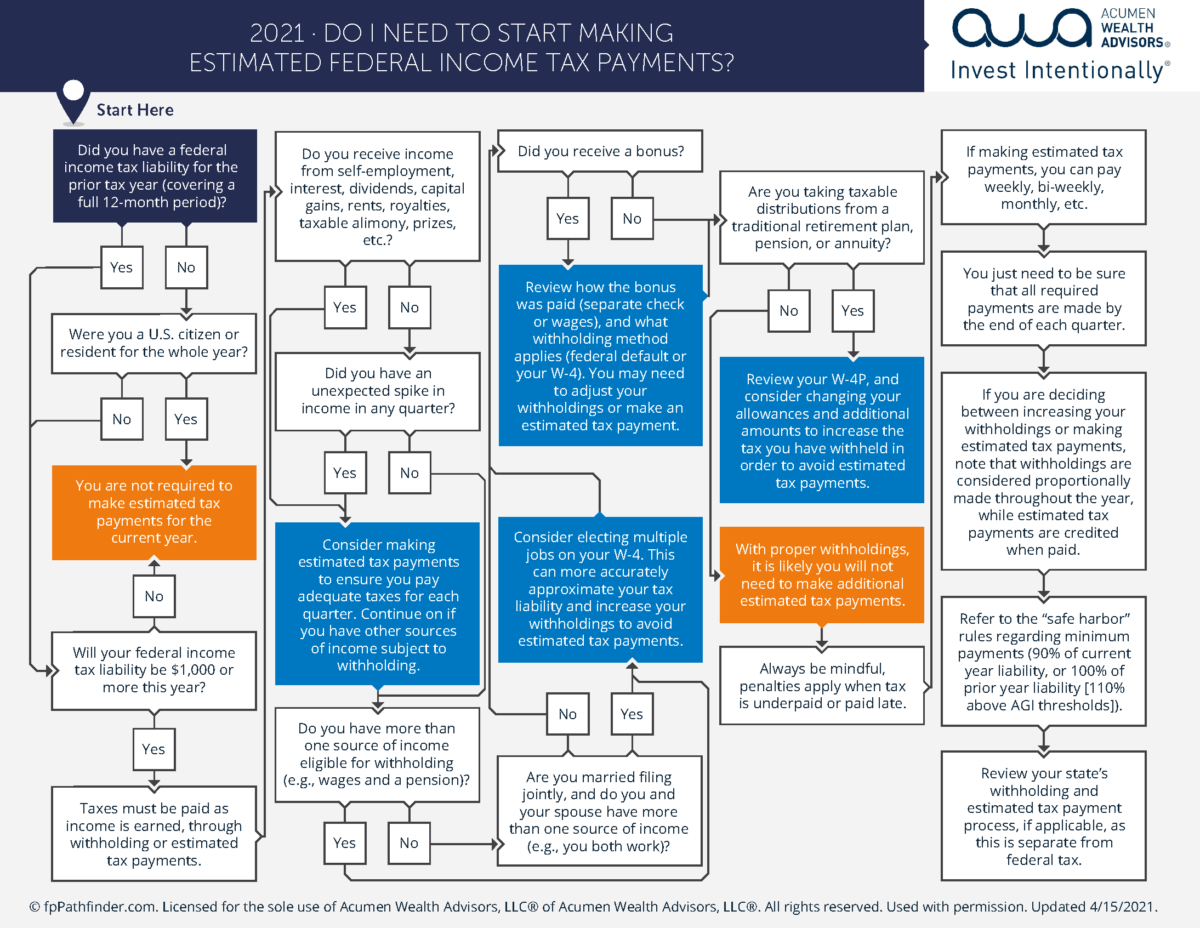 This report is provided as a courtesy for informational purposes only. The information has been obtained from sources we believe to be reliable; however, no guarantee is made or implied with respect to its accuracy, timeliness, or completeness.

Report Not a Solicitation
Do not act or rely upon the information in this publication without seeking the services of competent and professional legal, tax, or account counsel.

Report Does Not Provide Legal, Tax, or Accounting Advice
This report does not provide legal, tax, or accounting advice. Before making decisions with legal, tax, or accounting ramifications, you should consult appropriate professionals for advice specific to your situation.

For More Information
You should seek the services of your legal and/or tax advisors when making financial decisions. It is also recommended that you visit the IRS website at www.irs.gov for additional information.

Acumen Wealth Advisors, LLC® is a Registered Investment Advisor. Advisory service are only offered to clients or prospective clients where Acumen Wealth Advisors, LLC® and its representatives are properly licenses or exempt from licensure. Past performance is no guarantee of future returns. Investing involves risk and possible loss of principal capital. No advice may be rendered by Acumen Wealth Advisors, LLC® unless a client service agreement is in place.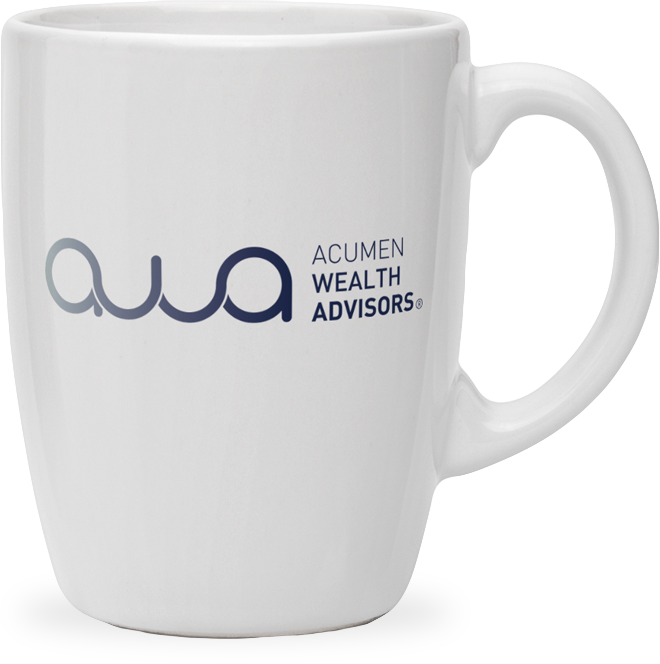 Ready to Connect?
Our mission is to help you and your family Invest Intentionally®.
Contact us today to start your journey.
Start your journey
Retirement is a whole new phase of life. You'll experience many new things, and you'll leave others behind – but what you won't avoid is taxes. If you've followed the advice of retirement plan consultants, you're probably saving in tax-advantaged retirement accounts. These types of accounts defer taxes until withdrawal, and you'll probably withdraw funds in retirement. Also, you may have to pay taxes on other types of income – Social Security, pension payments, or salary from a part-time job. With that in mind, it makes sense for you to develop a retirement income strategy.
Consider when to start taking Social Security. The longer you wait to begin your benefits (up to age 70), the greater your benefits will be. Remember, though, that currently up to 85 percent of your Social Security income is considered taxable if
your income is over $34,000 each year.
Be cognizant of what tax bracket you fall into. You may be in a lower tax bracket in retirement, so you'll want to monitor your income levels (Social Security, pensions, annuity payments) and any withdrawals to make sure you don't take out so much that you get bumped into a higher bracket.
Think about your withdrawal sequence. Generally speaking, you should take withdrawals in the following order:
Start with your required minimum distributions (RMDs) from retirement accounts. You're required to take these after all.
Since you're paying taxes on taxable accounts, make this the second fund you withdraw from.
Withdraw from tax-deferred retirement accounts like IRAs, 401(k)s, or 403(b)s third. You'll pay income tax on withdrawals, but do this before touching Roth accounts.
Lastly, withdraw from tax-exempt retirement accounts like Roth IRAs or 401(k)s. Saving these accounts for last makes sense, as you can take withdrawals without tax penalties. These accounts can also be used for estate planning.
These factors are complex, and you may want to consult a tax professional to help you apply these tips to your own financial situation. You can test different strategies and see which ones can help you minimize the taxes you'll pay on your savings and benefits.
To learn more about how Acumen can help you Invest Intentionally®, please contact us.
ACR# 3493422 03/21


Acumen Wealth Advisors, LLC® is a Registered Investment Adviser. Advisory services are only offered to clients or prospective clients where Acumen Wealth Advisors, LLC® and its representatives are properly licensed or exempt from licensure. Past performance is no guarantee of future returns. Investing involves risk and possible loss of principal capital. No advice may be rendered by Acumen Wealth Advisors, LLC® unless a client service agreement is in place. Acumen Wealth Advisors, LLC® is affiliated with RPAG and utilizes their robust retirement plan consulting tools and resources to deliver enhanced value to plan sponsor clients. RPAG™, a wholly owned subsidiary of NFP (NFP Corp.), provides retirement advisors premier technology, systems, training, and resources through its practice management platforms.
In light of Tax Day arriving in a couple days, we thought you might enjoy this article we found with some interesting facts about taxes through the years.
INCOMING!
Cheapism.com participates in affiliate marketing programs, which means we may earn a commission if you choose to purchase a product through a link on our site. This helps support our work and does not influence editorial content.
Acumen Wealth Advisors believes educating our clients is a priority.  Our team works together with our clients' CPAs to implement tax efficiencies and deploy unified financial plans.  We recently met with CPAs Kyle Butler and Matt Hisey of Mauldin & Jenkins and a few of our clients to walk through the new changes to the tax code – and we have made this information available to you as well.  Some of the many changes affect individual taxes, rates, and the health care mandate; personal deductions, exclusions and credits; estates and gifts and trust rates; and provisions for pass-through entities. To learn more about recent changes to the tax code watch our highlights video HERE and read our highlights brochure HERE.
This is for general information only and is not intended to provide specific investment advice or recommendations for any individual. It is suggested that you consult your financial professional, attorney, or tax advisor with regard to your individual situation. This information has been prepared from sources believed reliable but the accuracy and completeness of the information cannot be guaranteed.
This original post was written by Martha C. White for Time.
Are you taking all the tax breaks you're entitled to? Experts say you might be able to reduce your tax bill by taking advantage of the many exemptions, deductions, and credits built into the tax code.
Tax exemptions, deductions, and credits are all mechanisms that can reduce how much you ultimately pay in taxes.
This is the last year you can claim many of these breaks. The tax changes passed into law late last year won't affect your filing this year. So you'll definitely want to take this one last chance to claim all the tax relief for which you're eligible.
Tax exemptions
"Exemptions are above-the-line deductions that allow you to reduce your overall income," said Mark Jaeger, director of tax development at TaxAct. The most common of these, he said, are personal tax exemptions that let you write off a certain amount per eligible person in your household.
Currently, taxpayers are allowed to claim a personal tax exemption of $4,050 apiece for themselves, their spouse (if married filing jointly), and dependent kids. While the standard deduction is being doubled for tax year 2018, personal exemptions are being eliminated.
Tax deductions: Above- vs. below-the-Line
Tax exemptions and deductions both reduce your amount of taxable income, said Gil Charney, director at The Tax Institute at H&R Block. "It's not a reduction of your tax liability, but it does reduce your taxable income," he said.
If the amount of your tax deductions is high enough, you could lower your income enough to drop into a lower tax bracket, said Lisa Greene-Lewis, tax expert at TurboTax.
Tax deductions are referred to as either above- or below-the-line. "Above-the-line versus below-the-line refers to deductions claimed before calculation of adjusted gross income and deductions claimed after calculation of adjusted gross income," Jaeger said. Some examples of above-the-line deductions include IRA contributions and moving expenses.
If you itemize your taxes rather than taking the standard deduction (which about 30% of taxpayers do), you can take additional below-the-line deductions against expenses like your state and local income tax, mortgage interest, and charitable donations. They are all below-the-line deductions, Jaeger said.
Tax credits: Nonrefundable vs. refundable
Unlike exemptions and deductions, tax credits work a little differently. "A credit reduces the taxes you owe, dollar for dollar," Greene-Lewis said. You can be eligible for credits even if you don't itemize and just take the standard deduction.
Tax pros say people miss deductions and credits often because they don't realize all of the tax breaks available to them. Greene-Lewis said that the Earned Income Tax Credit, for instance, often goes unclaimed. "There are people that don't file taxes that are definitely eligible for the EITC because it's for lower to middle income, a lot of people may think they're under the income filing threshold, but they could be be eligible for that credit and eligible for a refund for federal taxes taken out of their paycheck."
That's because the EITC is what's known as a refundable credit. Nonrefundable credits can knock your tax bill all the way down to zero, but refundable credits, as the name implies, can essentially have the government paying you.
The deadline when taxes are due in 2018 is Tuesday, April 17.
House and Senate Republicans have released a final plan to resolve the differences between their tax overhaul bills. The legislation would cut taxes for corporations. American taxpayers, in large part, would also get cuts, though most of the changes affecting taxpayers would expire after 2025.
Income taxes
Current Law
G.O.P. Bill
The bill would lower individual tax rates overall. But to comply with Senate budget rules, the individual tax cuts would expire after 2025.
Tax brackets
Seven
Seven, lower overall
Top rate
39.6%
37%
starts at:
$426,700 / $480,050
(singles/couples)
$500,000 / $600,000 (singles/couples)
Alternative Minimum Tax
Alternative income tax calculation for high-income taxpayers
Keeps, but increases exemption so fewer will pay it
Standard deduction and exemptions
The standard deduction would nearly double, so many more people would end up taking it.
Standard deduction
$6,500 / $13,000
(singles/couples)
$12,000 / $24,000 (singles/couples)
Personal exemptions
$4,150 per taxpayer and dependent
Eliminates
Family tax credits
The child tax credit would double, and it has a larger refundable portion that would allow more lower-income families to benefit.
Child tax credit
$1,000
$2,000
Refundable portion:
15% of earnings over $3,000
Up to $1,400
Credit for other dependents
None
$500
Family tax credits phase out starting at:
$75,000 / $110,000
(singles/couples)
$200,000 / $400,000
(singles/couples)
Inflation
The biggest long-term change for taxpayers in the bill, it would result in a tax increase over the long run, long after the tax cuts expire.
Inflation measure used for certain income thresholds
Consumer Price Index (CPI)
Chained CPI (C-CPI), a less generous measure

Education

Current Law

G.O.P. Bill

Education credits
American Opportunity Tax Credit, Lifetime Learning Credit and Hope Scholarship Credit
No change
Student loan interest deduction
Can deduct up to $2,500
No change
Graduate student tuition waivers
Tuition waivers are not treated as taxable income
No change
A big victory for families that send their children to private school.
Education savings plans
None
Expands use of 529 college savings accounts to include K-12 private school tuition
Deduction for classroom expenses
$250 deduction
No change
Itemized deductions
Some Republican representatives in high-tax districts have said they will vote "no" because of the scaling back of the "SALT" deduction.
State and local tax deduction
Income or sales and property taxes are deductible
All state and local tax deductions limited to $10,000
Mortgage interest deduction
Can deduct interest payments on up to $1 million of debt
Limited to payments on $750,000 of debt
Moving expenses
Can deduct personal expenses
Eliminates, except for members of the military
Employer-provided expense reimbursements are excluded
Eliminates, except for members of the military
This deduction, which would have been eliminated by the House bill, is most important to low-income taxpayers with high out-of-pocket health care costs.
Medical expenses deduction
Can deduct out-of-pocket expenses in excess of 10% of adjusted gross income
Expands by reducing threshold to 7.5% of income Applies to 2017 and 2018
Overall limit on itemized deductions
Phase out beginning at $266,700 / $320,000
(singles/couples)
Repeals
Other individual taxes
Individual mandate
Penalty for not having health insurance
Eliminates Starts in 2019
Estate tax
Top rate of 40% on estates above $5.6 million
Increases threshold to estates above $11.2 million
Pass-through income
Taxed at individual rates
20% deduction, phasing out starting at $315,000 of income for couples
Capital gains
Top rate of 23.8% (including net investment income tax)
No change
Corporate taxes
Current Law
G.O.P. Bill
The largest tax cut in the bill would be permanent, as would other corporate tax changes.
Top corporate tax rate
35%
21%
Business interest deduction
Generally fully deductible
Caps deduction at 30% of income (excluding depreciation)
Alternative Minimum Tax
Alternative income tax calculation for businesses
Eliminates
New investment purchases
Complex rules for deducting over many years
Five years of full expensing, then phased out over five more years
Section 179 expensing
Small business expensing limited to $500,000
Increases limit to $1 million
The bill raised money by speeding up the effective dates for these last two provisions, which were included in the Senate bill.
Net operating losses
Can deduct net operating losses from income in other years
Limits the deduction to 80% of taxable income
Research and development expenditures
Can be immediately deducted
Would need to be written off gradually
Business credits and other
Orphan drug tax credit
Credit for 50% of qualifed testing expenses
Reduces credit rate to 25%
Renewable electricity tax credit
Credit for wind power production, phasing out by 2020
No change
Private activity bonds
Tax-exempt bonds used to fund low-income housing and other projects
No change
International
The bill would move from the current worldwide tax system, in which income earned abroad is taxed in the United States, to a territorial system in which only domestic profits would be taxed.
Taxation of multinational companies
Worldwide system with deferral and credit for taxes paid abroad
Modified territorial system with new anti-abuse tax
One-time repatriation tax
—
8% (15.5% for cash)
This original article appeared in the New York Times and was written by WILSON ANDREWS and ALICIA PARLAPIANO. 
On December 20, the House passed the reconciled tax reform bill, commonly called the "Tax Cuts and Jobs Act of 2017" (TCJA), which the Senate had passed the previous day. It's the most sweeping tax legislation since the Tax Reform Act of 1986.
The bill makes small reductions to income tax rates for most individual tax brackets, significantly reduces the income tax rate for corporations and eliminates the corporate alternative minimum tax (AMT). It also provides a large new tax deduction for owners of pass-through entities and significantly increases individual AMT and estate tax exemptions. And it makes major changes related to the taxation of foreign income.
It's not all good news for taxpayers, however. The TCJA also eliminates or limits many tax breaks, and much of the tax relief is only temporary.
Here is a quick rundown of some of the key changes affecting individual and business taxpayers. Except where noted, these changes are effective for tax years beginning after December 31, 2017.
Key changes affecting individuals
Drops of individual income tax rates ranging from 0 to 4 percentage points (depending on the bracket) to 10%, 12%, 22%, 24%, 32%, 35% and 37% — through 2025
Near doubling of the standard deduction to $24,000 (married couples filing jointly), $18,000 (heads of households), and $12,000 (singles and married couples filing separately) — through 2025
Elimination of personal exemptions — through 2025
Doubling of the child tax credit to $2,000 and other modifications intended to help more taxpayers benefit from the credit — through 2025
Elimination of the individual mandate under the Affordable Care Act requiring taxpayers not covered by a qualifying health plan to pay a penalty — effective for months beginning after December 31, 2018
Reduction of the adjusted gross income (AGI) threshold for the medical expense deduction to 7.5% for regular and AMT purposes — for 2017 and 2018
New $10,000 limit on the deduction for state and local taxes (on a combined basis for property and income taxes; $5,000 for separate filers) — through 2025
Reduction to the mortgage debt limit for the home mortgage interest deduction, to $750,000 ($375,000 for separate filers), with certain exceptions — through 2025
Elimination of the deduction for interest on home equity debt — through 2025
Elimination of the personal casualty and theft loss deduction (with an exception for federally declared disasters) — through 2025
Elimination of miscellaneous itemized deductions subject to the 2% floor (such as certain investment expenses, professional fees and unreimbursed employee business expenses) — through 2025
Elimination of the AGI-based reduction of certain itemized deductions — through 2025
Elimination of the moving expense deduction (with an exception for members of the military in certain circumstances) — through 2025
Expansion of tax-free Section 529 plan distributions to include those used to pay qualifying elementary and secondary school expenses, up to $10,000 per student per tax year
AMT exemption increase, to $109,400 for joint filers, $70,300 for singles and heads of households, and $54,700 for separate filers — through 2025
Doubling of the gift and estate tax exemptions, to $10 million (expected to be $11.2 million for 2018 with inflation indexing) — through 2025
Key changes affecting businesses
Replacement of graduated corporate tax rates ranging from 15% to 35% with a flat corporate rate of 21%
Repeal of the 20% corporate AMT
New 20% qualified business income deduction for owners of flow-through entities (such as partnerships, limited liability companies and S corporations) and sole proprietorships — through 2025
Doubling of bonus depreciation to 100% and expansion of qualified assets to include used assets —effective for assets acquired and placed in service after September 27, 2017, and before January 1, 2023
Doubling of the Section 179 expensing limit to $1 million and an increase of the expensing phaseout threshold to $2.5 million
Other enhancements to depreciation-related deductions
New disallowance of deductions for net interest expense in excess of 30% of the business's adjusted taxable income (exceptions apply)
New limits on net operating loss (NOL) deductions
Elimination of the Section 199 deduction, also commonly referred to as the domestic production activities deduction or manufacturers' deduction — effective for tax years beginning after December 31, 2017, for noncorporate taxpayers and for tax years beginning after December 31, 2018, for C corporation taxpayers
New rule limiting like-kind exchanges to real property that is not held primarily for sale
New tax credit for employer-paid family and medical leave — through 2019
New limitations on excessive employee compensation
New limitations on deductions for employee fringe benefits, such as entertainment and, in certain circumstances, meals and transportation
Year-end planning opportunities still available
We've only briefly covered some of the most significant TCJA provisions here. There are additional rules and limits that apply, and the law includes many additional provisions.
Also keep in mind that, as a result of the TCJA, you may have some last-minute year-end 2017 tax planning opportunities — but quick action (before January 1, 2018) will be needed. If you have questions about what you can do before year end to maximize your savings, or you'd like to learn more about how these and other tax law changes will affect you in 2018 and beyond, please contact us.
This original article can be found here: http://www.extendedarticle.com/TAA/247496_Mauldin_Jenkins/2017/ETRA17_fullarticle_MJ.html
While Congress bickers over a tax reform package, the rest of us are left to make sense of end-of-year tax planning.
Since we don't know the outcome and reforms would most likely not take effect until 2018, focus on the things within your control today.
Maximize contributions to a 401(k) or 403(b) plan. These payroll deductions will immediately lower your taxes and put money away in a tax-deferred manner.
Contributions may be met by matching contributions from an employer. A match is free money. However, since they must run through your paycheck, contact your payroll department now.
Convert a traditional IRA to a Roth IRA. By converting to a Roth, you are moving money from a tax-deferred account to one that is tax-exempt. The younger you start, the easier it is to get started and benefit from the tax exemption.
Many investors worry they make too much money to contribute directly to a Roth IRA. However, wise investors know there are no income limits on Roth conversions. As such, analyze how much income tax you are willing to pay now to receive tax-exempt growth going forward.
Furthermore, a Roth IRA does not impose "Required Minimum Distributions" on investors who are 701/2
Although not a tax benefit, qualified retirement plans can also provide creditor protection and can be left to heirs in a tax-advantaged manner.
A Health Savings Account also delivers an immediate income tax deduction. An HSA allows you to invest money in a tax-deferred manner, allowing for long-term growth. If earnings are used for qualified health expenses, they can be withdrawn in a tax-exempt manner.
Although you must have a high-deductible health insurance policy to use an HSA, the long-term compounding of this alternate investment plan can really pay off in lowering current taxes as well as future medical expenses.
Harvest investment losses. If you sell a negative position, you realize a tax loss that can offset up to $3,000 of income for joint tax filers. However, losses can offset an unlimited amount of capital gains. Unused losses can be carried forward indefinitely.
When using tax losses, make sure not to violate the "wash-sale" rule.
Contribute to an education fund such as a 529 college savings plan or Education Savings Account. A 529 plan can receive up to $70,000 per beneficiary from one person this year. An ESA can receive up to $2,000 per year, and the earnings are tax-exempt if used for qualified education expenses.
Supercharge your charitable donations. Obviously, charities are happy to take your cash, but they will gladly accept appreciated securities also. If you gift appreciated securities, you don't pay taxes on the deferred gain but receive the full benefit of the market value as a donation.
Those who are at least 701/2
Charitably inclined people can also transfer appreciated stock to someone in a lower income tax bracket, such as a grandchild. When the grandchild sells the stock, they will pay capital gains tax but most likely at a much lower tax rate.
Lastly, you can accelerate deductible expenses that are not due until next year. By doing so, you "bunch" deductible expenses such as property tax, mortgage interest, medical expenses or charitable expenses. Effectively, you will have large deductible expenses in one year followed by very little the next year. This allows you to better use itemized deductions one year followed by the standard deduction in the next year.
With less than one month left in the year, a little bit of planning and strategy can go a long way toward lowering your 2017 tax bill. Finally, what you earn this year does not matter. What does matter is what you earn net of taxes.
Dave Sather is a Victoria certified financial planner and owner of Sather Financial Group. His column, Money Matters, publishes every other week.
This original article was written by ALICIA PARLAPIANO for the New York Time. You can see the full interactive article here. 
House Republicans released a bill on Thursday that would make major changes to the tax code. Some key elements of the proposal:
Lower Rates for Households
The bill would reduce the current marginal income tax brackets to four from seven — 12, 25, 35 and 39.6 percent — and lower taxes by increasing the income ranges affected by each rate.
The top rate would be the same as it is now, except the income level at which it would apply would increase to $1 million for married couples from $480,050 under the current law.
Income thresholds are for married couples filing jointly. | Sources: Internal Revenue Service; House Ways and Means Committee
While the lowest income rate would increase, typical families in the existing 10 percent bracket would most likely be better off because of a larger child tax credit and an increase in the standard deduction. The full effects of the plan on different groups has not yet been analyzed by experts.
The bill would repeal the individual Alternative Minimum Tax — which primarily affects households with incomes from $200,000 to $1 million — and would maintain preferential rates for investment income. It would also repeal the estate tax after six years, in the meantime doubling the amount of inherited wealth that is exempt from the tax to $11 million from $5.5 million.
Increase the Standard
Deduction and Child Tax Credit
The plan would nearly double the amount of the standard deduction and eliminate the personal exemption, a deduction based on the number of taxpayers and the dependents claimed on a return.
The new, single deduction would be higher for many filers, except those who claim multiple children. An increase in the child tax credit to $1,600 from $1,000 and a new $300 credit for each parent and nonchild dependent could make up the difference.
| Filing status | Current deduction | Current deduction & exemptions | Deduction under G.O.P. bill |
| --- | --- | --- | --- |
| Single, no children | $6,350 | $10,400 | $12,000 |
| Married, no children | $12,700 | $20,800 | $24,000 |
| Married, two children | $12,700 | $28,900 | $24,000 |
Sources: I.R.S.; House Ways and Means Committee | Proposed deduction amounts are comparable to the current 2017 levels and would increase with inflation in 2018.
Filers can choose the standard deduction or itemized deductions, but not both. Most filers — 70 percent — currently choose the standard deduction because it is higher than what they qualify for in itemized deductions.
According to an analysis of an earlier House Republican tax plan by the Tax Policy Center, 84 percent of filers who currently itemize their deductions would take the standard deduction if it were doubled.
To help pay for the increase, the plan would eliminate other deductions, with the exception of deductions for mortgage interest, charitable contributions and state and local property taxes. The mortgage interest deduction would be capped for newly purchased homes up to $500,000, and the property tax deduction would be capped at $10,000.
Eliminate the State and Local Tax Deduction
The biggest deduction that would be eliminated is the one for state and local taxes. That deduction primarily helps people in blue states where taxes are higher.
Republicans made a last-minute change to the bill that would retain some of the property tax portion of the deduction, but many upper-middle class taxpayers in these places could still end up paying more under the bill.
But the political divide is not so straight-forward. A Tax Policy Center analysis in September found that of the 20 congressional districts with the highest percentage of returns claiming the deduction in 2014, eight had Republican representatives.
Create a New Tax Rate For 'Pass-Through' Businesses
The plan would create a new 25 percent tax rate for "pass-through" businesses — sole proprietorships, partnerships and S corporations that currently pay taxes at the individual
rate of their owners. Pass-throughs now make up about 95 percent of businesses in the country and the bulk of corporate tax revenue for the government.
Most pass-throughs are small sole proprietorships currently paying less than a 25 percent marginal rate. But a few are quite large — 1.7 percent of pass-through businesses generate more than 40 percent of all pass-through income and are taxed at the top 39.6 percent rate.
The bill includes a rule to help prevent wealthy individuals from incorporating as pass-through companies to pay a lower tax rate on their income. As a result, certain personal service businesses like law, accounting and consulting would not be eligible for the rate.
Lower the Corporate Rate While
Eliminating Some Tax Breaks
The plan would lower the corporate tax rate to 20 percent from 35 percent and eliminate most business deductions and credits, with the exception of those for research and development and low-income housing. Cutting this tax rate is the most expensive change in the bill. 
A recent analysis by the Tax Foundation found that eliminating these corporate tax expenditures that do not change the structure of the tax code would only pay to lower the rate to 28.5 percent from 35 percent, far short of the 20 percent rate called for in the bill. Because the bill calls for retaining some expenditures, even more savings will have to be found elsewhere to pay for the corporate tax cut.
The plan also makes several other major changes to the corporate tax code, including allowing temporary immediate expensing of assets, scaling back deductibility for corporate interest expenses, moving to a territorial system and implementing a one-time repatriation tax on profits overseas.